Heavy Metal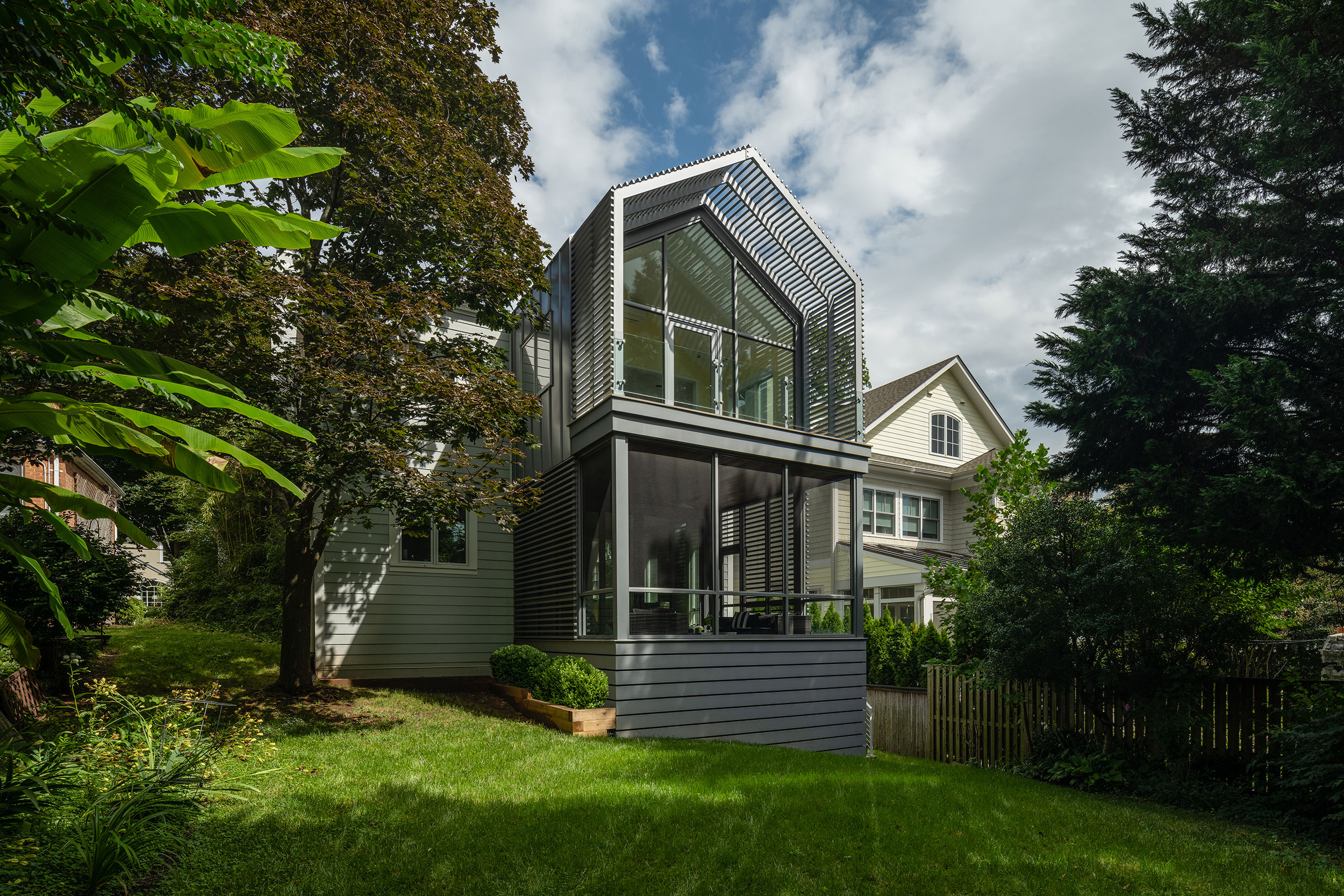 A pair of empty-nesters contracted architect George Bott of Anthony Wilder Design/Build to add an outdoor extension to their Northwest DC home—the wife wanted a screened porch, the husband a balcony for drinking his morning coffee. Bott originally came up with two designs: One was more traditional, matching the home's existing facade. But the second, inspired by the wife—an art-history professor with an affinity for contemporary art—was a striking, ambitious steel project. They went with the latter. "She was like, 'Oh, my God—I love it,' " says Bott.
The two-story project has a screened porch on the bottom and a glass-railing balcony on the top with views of National Cathedral. The addition also included a reading nook off the upper-floor primary bedroom. A painted-steel standing-seam roof covers the nook and extends along the sides; Bott constructed a brise-soleil over the balcony out of aluminum tubes coated to match the roof. (The pitched roof and brise-soleil are nods to the house's gabled front.) Those same aluminum tubes are used on the bottom half for a privacy screen on the covered porch, which has warm ipe wood on the floors and ceiling to provide contrast to the cold metal.
Constructing what's basically a mini-skyscraper in one's backyard isn't without challenges. Bott had to use many hefty structural steel beams to stabilize an addition that had almost no walls. To get the beams to the backyard's small, sloping site required a crane and commercial-grade scaffolding. (At one point, the team considered hiring a helicopter.) But it was worth the lift—literally. Says Bott: "It's so dramatic."
---
---
"Every Inch Counts"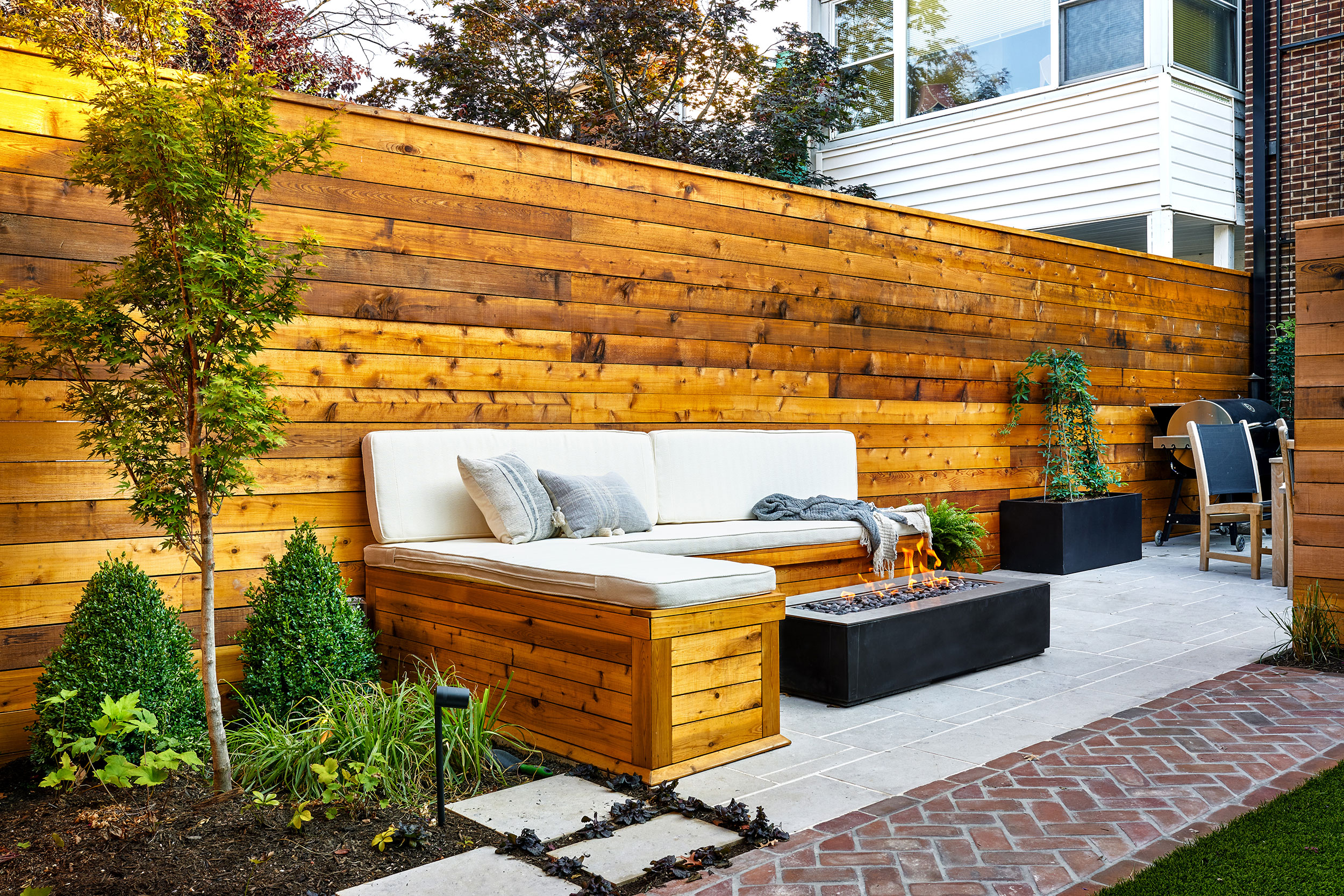 Joseph Richardson of the landscape-architecture firm Richardson & Associates was hired to reimagine a Mount Pleasant rowhouse's backyard. It was originally "a mud pit," he says: A young family was renovating the home, and the yard had been the site of several excavations. They had dreams of an outdoor entertaining space, with a list of must-haves: parking for their SUV, a fire pit, a grill area, dinner seating for six that flowed into the kitchen, and lots of greenery. All of which required Richardson to get creative, as the backyard was only 20 by 37 feet.
That meant measuring like crazy and creating elements to pull double duty. "There's a recurring theme here of efficient use of space," says Richardson. "Every inch counts." The gas fire pit has a metal top that turns it into a coffee table when not in use, and wooden bench seating contains built-in storage. Richardson measured the car to ensure it would fit, with room to open its doors and retrieve a stroller—it's hidden out of view by a natural-cedar fence. The team chose that material to bring warmth to the space's clean lines, and Richardson selected smaller fence posts, giving the yard a crucial extra foot of space. An accordion door opens the kitchen to the outdoor dining area; each section uses different flooring material laid in similar patterns to create visual continuity. Meanwhile, the ground is paved with brick and limestone, which don't retain a lot of heat—important for hot days with little kids. Vines were planted to crawl across the fence and a trellis on the rear of the house, and a coral-bark Japanese maple will eventually provide shade.
---
---
Hunt-Country Hang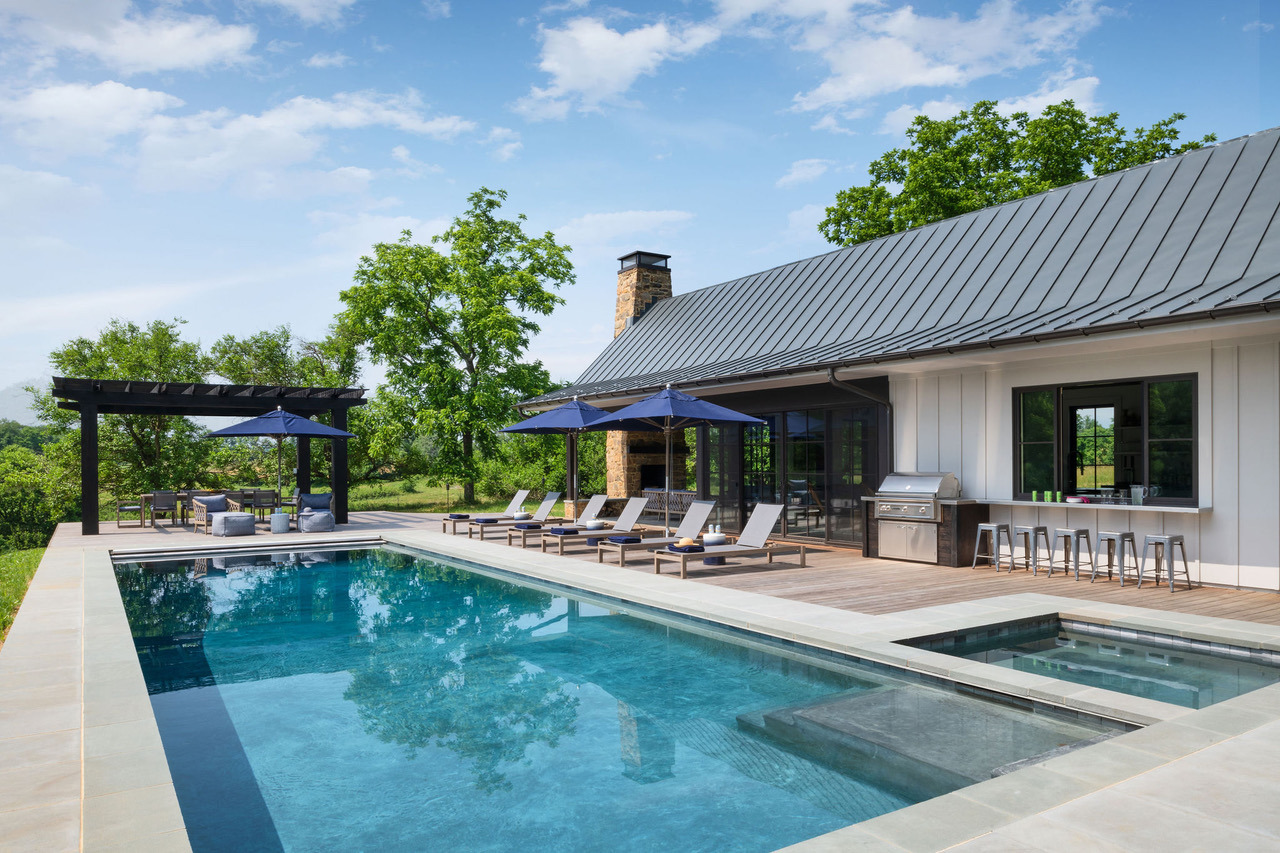 When new owners bought this Dela­plane, Virginia, property as a multi­generational vacation retreat, the swimming pool sat in an empty field. They hired Marika Meyer of Marika Meyer Studios and Timothy Clites of Clites Architects to build a structure around the pool that could serve as a gym, pool house, and entertaining area.
The vibe is contemporary farmhouse, says Meyer: While there are modern touches such as a poured-­concrete floor inside and sleek black-metal-and-glass sliding doors that open onto the pool, more-traditional board and batten lines the side of the building, reclaimed wood planks cover the ceilings, and the fireplace is made of fieldstone original to the property. "It's all about that very textural experience, [which is] certainly a reference point to what you're seeing on the exterior perimeter of the property," says Meyer.
The L-shaped space contains a fitness room, with changing areas and a shower in one wing; a living room and casual food-prep area occupies the other. A window that opens from this wing to a stainless-steel outdoor counter harks back to pool snack-bar days (there's wine and beer on tap), and all the furniture and rugs are performance fabric to accommodate soggy bathing suits. An outdoor dining setup sits under a white-oak pergola, stained black to match the building's exterior trim, while the ipe-wood-and-concrete pool deck overlooks the trees and hills bordering the property, where you can sometimes spot the local fox hunt running through. "You just stand there, take a deep breath, and let the weight of the world fall by the wayside," says Meyer.
---
---
This article appears in the June 2023 issue of Washingtonian.