In the past eight months, Belgian-born chef Frederik De Pue has
brought us two very different restaurants. First he introduced Table, a
hip, noisy spot in a former taxi-repair shop in DC's Shaw where an open
kitchen steams up the dining room and gorgeous hand-scripted notebooks
serve as menus. In April, De Pue showed his more serene side at Azur—a
seafood restaurant in the three-level space that once housed Café
Atlántico in Penn Quarter.
At the latter, a dramatic glass-bubble chandelier and a watery
palette of gray, white, and sea green create a cool backdrop for fish
dishes that are simple yet well conceived. Little pops of jalapeño enliven
shrimp ceviche; a drizzle of lemon-infused olive oil makes tender curls of
fluke crudo at once brighter and more earthy. Among the best
entrées: a slab of poached pollack bathed in a delicate, Japanese-style
beef broth and, surprisingly, fish and chips—crunchy, beer-battered fish
(the type changes often) with a heap of crisp, golden fries that do De
Pue's native country proud.
Another standard the chef gets right: the lunchtime lobster
roll. Nestled in toasted brioche is sweet, aïoli-dressed tail and claw
meat punctuated with crunchy bits of celery and onion. As with the fish
and chips, De Pue doesn't try to reinvent a classic. Instead, he allows
careful preparation and well-chosen ingredients to add up to something
uncommonly delicious.
This sense of confident restraint—apparent in everything from
decor to dishes—extends to the emo-ish rock soundtrack (Band of Horses,
Death Cab for Cutie), a welcome refuge from the canned tunes at so many
restaurants. The only area it doesn't reach: the all-over-the-place
service. Nothing ruins the sense of calm like a bartender berating a
trainee in front of customers or an overly chatty waiter dishing to diners
about incompetent valet parkers—two experiences we squirmed through.
Still, once you've had that lobster roll, chances are such awkward
encounters will seem a small price to pay.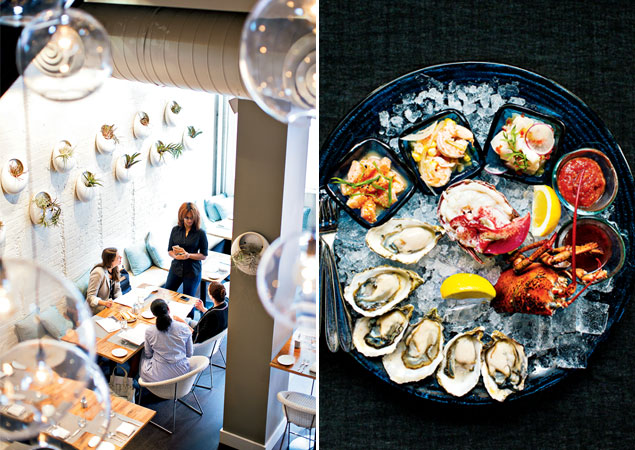 This article appears in the September 2013 issue of The Washingtonian.