This page describes the contents of an issue of Washingtonian magazine. Subscribers get exclusive early access through our print and digital editions. Most of our feature stories are later published online and linked below.
Buy a Single Issue
Subscribe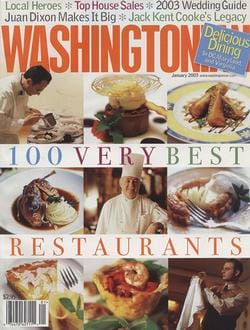 Editor's Notes The Business Hall of Fame honors five people and raises money to develop future leaders.
Capital Comment What's in and out for 2003 . . . Looking at wannabe First Ladies . . . And the next Supreme Court justice will be . . . Stephen Hunter called Barry Levinson a what?
Where & When Edouard Vuillard at the National Gallery . . . Whistler's Venice at the Freer . . . South Pacific at Arena . . . Washington Ballet dances Peter Pan . . . Celebrating St. Petersburg.
A Different Islam Once it meant tolerance and diversity; now it's linked to terrorism. Here's what needs to happen to restore Islam. Interview by Ken Adelman.
Making Over Mr. Cooke Jack Kent Cooke is remembered for his Redskin wins–and as a hard human being. Will millions in scholarships save his legacy? By Alvin P. Sanoff.
Big Apple Attack Frank Rich got Washington all wrong. Here's what the fight is about, plus a few things you can do with his New York Times Magazine story. By Arthur Cotton Moore.
Local Heroes For 31 years, we have honored people who make Washington a better place–and each year those who make a difference inspire others throughout the area. Here are 2002's Washingtonians of the Year. By Leslie Milk and Ellen Ryan.
Juan Dixon Makes It Big He's got a $3-million Wizards contract, a big new home, a beautiful girlfriend, and a bright future. Is there room for his past in his shiny new life? By Brooke Lea Foster.
Top House Sales The rich and famous are still buying mansions with six-car garages, pools, wine cellars, and big price tags. Here's who paid the big bucks–and what they bought–in 2002.
When Jared Stopped Smiling He was handsome, funny, popular–and he suffered from depression. We all knew and tried to help. Now we live with the question: Did we do enough? By Cindy Rich.
100 Very Best Restaurants The finest dining in Virginia, Maryland, and the District–plus 20 restaurants to watch. By Robert Shoffner, David Dorsen, Thomas Head, and Cynthia Hacinli.
Best Bites Another slice of paradise in Georgetown . . . A French-American in Falls Church . . . Venetian-style cooking on Pennsylvania . . . Bubbly advice from a Champagne expert.
Washington's Best Wine Lists A good restaurant list combines value and selection and also offers plenty of wines that go well with the food. Here are the very best in the area. By Paul Lukacs.
Benefits Antiques, balls, and other good ways to support good causes. By Maggie Wimsatt.
2003 Wedding Guide Everything you need to plan the perfect day, including top caterers, receptions sites, photographers, florists, and other wedding experts. Plus where to learn to dance.
Brighter Day Immigrant workers remind the author of newcomers of an earlier time. A lot has changed–but not their aspirations. By Judi Hasson.