This page describes the contents of an issue of Washingtonian magazine. Subscribers get exclusive early access through our print and digital editions. Most of our feature stories are later published online and linked below.
Buy a Single Issue
Subscribe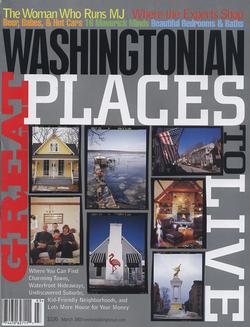 Editor's Notes Gathering to honor and learn.
Capital Comment What's happening to the zoo animals? . . . It helps to be a friend of the Reliable Source . . . Tony Snow's capital favorites . . . Who could play Tony Kornheiser on TV?
Where & When Margaret Bourke-White photos at the Phillips . . . Elizabeth the Queen at the Folger . . . Ain't Misbehavin' at Arena . . . Slava conducts Prokofiev . . . Latin rhythms at KenCen.
Sage of Pennsylvania Avenue The best president and other lessons from a life in politics. Interview by Ken Adelman.
In Search of Narcissists A book on leadership, plus Irish tales and more. By William O'Sullivan.
"While Serving His Country" The telegram said Bobby was dead. After that, everything changed. By John Pekkanen.
A Better Bet Slot machines at Maryland's racetracks? A really dumb idea. By Kim Isaac Eisler.
Beer, Babes, and Hot Cars NASCAR is fast, noisy, and dangerous–here's what the fun's all about. By Bill Heavey.
Play Maker Young director Leigh Silverman is back where she began. By Shana Liebman.
The Woman Who Runs MJ You don't get to Michael Jordan without going through Estee Portnoy. By Leslie Milk.
16 Maverick Minds Think Washington is all about not rocking the boat? Take a look at these contrarians.
Fire on the Ice Don't slow down–this guy knows how to use his skates. By Jennifer Andes.
Great Places to Live Where you can find charming towns, waterfront hideaways, undiscovered suburbs, kid-friendly neighborhoods, and lots more house for your money. Edited by Drew Lindsay.
Dew of Death Troops in Iraq may face a chemical discovered at Catholic University. By Joel Vilensky.
Avalon: The Sequel How a beloved neighborhood movie house got a new lease on life. By Harry Jaffe.
Where the Experts Shop Where pros buy kitchen equipment, cameras, makeup, and more. By Susan Breitkopf.
Dining Out Reviews of 15 ria in downtown DC and Indique in Cleveland Park, Savory Cafe in Takoma Park, Tropics in Germantown, Yamazato and Le Gaulois in Alexandria.
Wine Bargain discoveries among lesser-known wines. By Paul Lukacs.
Good Spirits We taste a dozen Irish whiskies and find a winner. By Thomas Head.
Best Bites Cooking with beer . . . celebrating blossoms . . . avoiding the check grab.
Benefits Oscar, wine, and spies–good times for good causes. By Maggie Wimsatt.
Home Design Beautiful Bedrooms & Baths A guide to creating a soothing, pretty master-bedroom suite: where to get luxury linens, who can redo a bath or closet, what to put on windows and walls, and more.
Gun for Rent A drug deal and an ex-cop. By George P. Pelecanos.
Luxury Homes Ex-diplomats made deals in DC, Howard Kurtz in Chevy Chase.
Real Estate New retirement communities offer the good life. By Jeff Deck.
Custom Homes Classic rowhouse gets a funky facelift. By Wendy Ann Larson.
First Person "Ich bin eine Washingtonian." By Kristina Tatusko Henry.