This page describes the contents of an issue of Washingtonian magazine. Subscribers get exclusive early access through our print and digital editions. Most of our feature stories are later published online and linked below.
Buy a Single Issue
Subscribe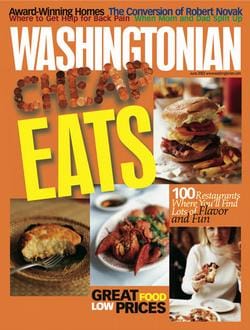 Capital Comment Ted v. Abe–money, houses, cars, and more . . . New title for Bill Clinton–Hizzoner?. . . Stephen Hunter misses going to war. . . Floyd King's favorites . . . Getting tan for the beach.
Where & When Celebrating Moroccan life at NMAA. . . Chicago onstage at the National. . . Shakespeare under the stars. . . Norah Jones at Wolf Trap. . . Long hitters at Avenel. . . Caribbean Carnival in DC.
Between the Covers How Dupont Circle readers differ from Arlington, why it's a bad idea to get into the book business, and the best read ever. Interview by Ken Adelman.
Reunion Confidential A roomful of fiftysomethings, the Supremes, hot fudge, Vietnam, and other memories of high school. By Sibbie O'Sullivan.
Five Favorite Golf Courses They have green hills, blue water, great views, lots of challenges–and anybody can play there. By Jeff Thoreson.
The Conversion of Robert Novak He was called the Prince of Darkness. Now that he's gotten religion, is he any nicer? By Barbara Matusow.
How to Talk Like a Woman Becoming female is about more than high heels or even surgery. You have to sound the part. By Nina Mitchell.
Springing Back Where can you find hot ethnic food, great films, a Metro stop, and a little action? Try the new Silver Spring. By Diane Granat.
Playing His Heart Out A new CD of live performances brings Roy Buchanan's rockin' blues to life. By William Triplett.
When Mom and Dad Split Up At 26, she was caught in the middle. Why was her parents' breakup hitting her so hard? And was she their daughter or their friend? By Brooke Lea Foster.
One Last Road Trip A man, a dog, and a journey of thanks. Photographs by Richard Olsenius.
Cheap Eats 100 restaurants where you'll find great food at low prices, lots of flavor, and fun. By Robert Shoffner, David Dorsen, Cynthia Hacinli, and Thomas Head.
Wine Dry Champagnes don't work well with sweet wedding cakes, but there are other elegant choices. By Paul Lukacs.
Best Bites Good outdoor dining. . . Marian Burros's Cooking for Comfort. . . two newcomers in Foggy Bottom. . . a steakhouse with a Capitol view. By Thomas Head and Cynthia Hacinli.
Where to Get Help for Back Pain Medical researchers are learning more about how to treat back pain–and how not to. Here's what to know and a list of the area's top back experts. By Leslie Milk.
Award-Winning Homes Winners of the 2003 Washingtonian Residential Design Awards define an emerging Washington style. They touch on tradition while embracing their sites and surroundings. By Ellen Ryan.
Benefits Bark Ball, barbecue, and other good times for good causes. By Maggie Wimsatt.
Wedding Guide What counts in a ring? What happens if you cancel? How likely are you to stay married? Wedding gifts that give twice. Showing your appreciation to bridesmaids. And whose wedding is it anyway?
Luxury Homes Bill Cohen buys a $4.3-million condo in Chevy Chase; architect Hugh Newell Jacobsen buys for a million in DC. By Kimbery Briggs.
Looking for Idaho Trying to spot 50 license plates took four months, three people, and an obsession with the Potato State. By Chris Core.