This page describes the contents of an issue of Washingtonian magazine. Subscribers get exclusive early access through our print and digital editions. Most of our feature stories are later published online and linked below.
Buy a Single Issue
Subscribe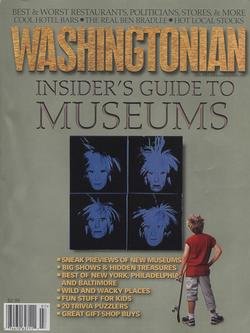 Capital Comment Campaign books you'll never see . . . Bill Clinton still loves to party . . . Is Fred Fielding "Deep Throat"? . . . Country-western star Katy Benko . . . Mike Buchanan is tired of getting up early.
Where & When Impressionists at the Corcoran . . . Ghosts at the Shakespeare . . . Marsden Hartley at the Phillips . . . Sheryl Crow, Elvis Costello, and more at Wolf Trap . . . Fireworks on the Mall!
Is Our Baby Okay? A genetic counselor talks about making hard choices, offering comfort, and answering the question, "Why me?" Interview by Ken Adelman.
Hollywood Does DC The best Washington movie ever, the most overrated, why All the President's Men doesn't measure up, and other big-screen secrets. By Tom Carson.
Passage to India Stories from a Senate legend's bohemian daughter–plus other new books and summer reading suggestions. By William O'Sullivan.
Prince George's Convert The fast-growing Maryland county hasn't solved all its problems, but it has beautiful neighborhoods and even more good things on the horizon. By Marita Golden.
Smarter Than They Thought Twenty-five years ago, John Warner was best known as Elizabeth Taylor's seventh husband. These days the independent-minded senator has a lot to smile about. By Tom Philpott.
Best and Worst Readers choose the good, the bad, who's in, who's out. Plus, editors reveal their personal picks of restaurants, stores, hot spots, golf courses, lawyers, and more.
All in the Family She grew up following Dad around. Now they mend broken hearts together. By Ellen Ryan.
The Real Ben Bradlee At 81, the legendary Washington Post editor looks back on his marriages and his kids, going to a shrink, and why he loves life. By Iris Krasnow.
Whoo! Whoo! Owls sleep during the day, but at night they are very busy. By Jo Ann Abell.
Where Is Home? Washington has always felt temporary, even though she's lived here 30 years. Maybe home is just an accident that happens to some lucky people. By Linda Greider.
Insider's Guide to Museums Here's the lowdown on 155 of them–what's new and fun, big shows, hidden treasures, offbeat places, kids' stuff, gift shops, getaways, and more. Edited by Drew Lindsay and Laura Thomas.
Beat the Clock Local scientists may be on the verge of a cancer breakthrough. But will the cash run out before they begin saving lives? By Joshua Kurlantzick.
Best of Adams Morgan It's not all nightclubs–here are 14 places to eat well in DC's liveliest neighborhood. By Thomas Head.
Dining Out A simple French bistro that offers everything from mousse of foie gras to boned pig's feet. Plus reviews of Charlie Palmer Steak in DC, Tandoori Nights in Gaithersburg, Potomac Village Deli in Potomac, Dragon Star in Falls Church, and Ray's the Steaks in Arlington.
Wine Australian Shiraz and California Zinfandel are great for grilling. By Paul Lukacs.
Best Bites New inn in Middleburg . . . handcrafted ice creams . . . dining with a river view.
Cool Hotel Bars Not just watering holes for travelers, they now are stylish and fun. By Sean Neary.
Hot Local Stocks Local companies prove that government work pays off. Plus, the experts pick 2003's best stocks, and the Business Leader of the Year. By Wayne Nelson and Ellen McLellan.
Benefits Best of Washington party, more good times for good causes. By Maggie Wimsatt.
Real Estate On the river–hideaways, luxury condos, and more. By Aili Petersen.
Custom Homes Turning an old rambler into a dream house. By Wendy Ann Larson.
Luxury Homes Tech mogul makes a $4-million deal in McLean. By Kimberly Briggs.
First Person Don't fight the universe and other good advice. By Cristy Lytal.