This page describes the contents of an issue of Washingtonian magazine. Subscribers get exclusive early access through our print and digital editions. Most of our feature stories are later published online and linked below.
Buy a Single Issue
Subscribe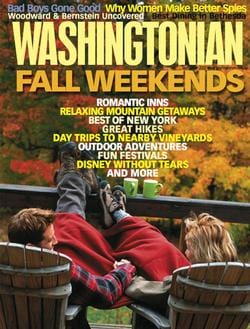 Capital Comment $50,000 to hear Ari Fleischer speak? . . . Predicting the Redskins season . . . The tough reporter who gets no respect at the Post . . . Gwen Ifill's favorites . . . K Street to challenge West Wing
Where & When Romare Bearden at the National Gallery . . . Egyptian masterworks in Baltimore . . . Premieres of two plays by Ken Ludwig . . . Local musical heritage at Strathmore Hall . . . Rotunda reopens at Archives.
In the Locker Room Walking in on the guys, getting girls onto playing fields, figure skating's secrets, and other tales from a woman's life in sports. Interview by Ken Adelman.
Dark Nights, Bright Days A Harvard Law graduate starts legal and literary careers–plus new releases, where to donate books, and more. By William O'Sullivan.
Talk Wars Russert and Schieffer and Stephanopoulos battle for big ratings and hot guests on Sunday mornings, and the competition is cutthroat. By Lee Michael Katz.
Why Women Make Better Spies The CIA teaches its recruits how to lie, manipulate, and keep secrets. What woman isn't better at that than a man? By Lindsay Moran.
Danny's Place Redskins owner Dan Snyder paid $10 million for Queen Noor's estate and is turning it into a fantasy playland with a 12-car garage, 18-seat movie theater, and big "fun room." Want to see inside?
Oh, Baby! They thought they'd never have kids. Suddenly they had three. By Denise Kersten Wills.
Bad Boys Gone Good They skipped school, got into fights, bounced from job to job. They didn't take the usual road, but they made it big. And they don't regret a thing. By Harry Jaffe.
Woodward and Bernstein Uncovered Surprising glimpses into the very different lives of the two men who broke the Watergate story and brought down a president. By Alicia C. Shepard.
Fall Weekends Five weekend deals, six romantic inns, five terrific hikes, seven winery tours–plus, finding a great dinner and show in New York, Disney without tears, and more. Edited by Sherri Dalphonse.
Benefits Wine, walks, auctions, and other good times for good causes. By Maggie Wimsatt.
Headache From Hell After nine years, dozens of lost days, and a chain of doctors and pills, could her migraines finally be brought under control? Here's how she did it. By Ellen Ryan.
Best Dining in Bethesda Downtown Bethesda has restaurants and more restaurants–here's a guide to 57 of the best. By Cynthia Hacinli.
Where You Can Eat Often David Greggory serves up equal portions of good cooking and good company in DC. Plus reviews of Tuscarora Mill in Leesburg and Jaipur in Fairfax. By Thomas Head and David Dorsen.
Southern Stars Wines from Chile and Argentina are now among the very best. By Paul Lukacs.
Author! Author! If you think writing a play is hard, try getting a theater to produce it. Here are five success stories. By Leslie Milk.
Cars of the Stars What you drive says something about who you are–or want to be. Here are the cool rides of some Washington VIPs. By John Harter.
Luxury Homes Ex-CNN chief pays $2.6 million. Tom Ridge and Spencer Abraham also buy. By Kimberly Briggs.
"I'll Ask Dad" The most important facts of life are the ones her son least wants to hear–the ones that have to do with the heart. By Janice Lynch Schuster.