This page describes the contents of an issue of Washingtonian magazine. Subscribers get exclusive early access through our print and digital editions. Most of our feature stories are later published online and linked below.
Buy a Single Issue
Subscribe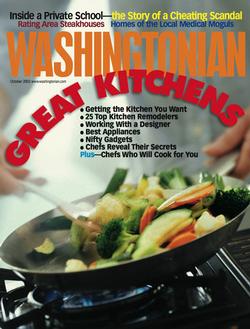 Capital Comment Will Dean make DC more like Vermont? . . . Estrada goes for the money . . . How Michael Powell might push his Dad out of the Cabinet . . . Why Toles is so tough on Bush . . . Motorcycle jackets get hot.
Where & When Wright Brothers at Air & Space . . . Photojournalist Diana Walker at American History . . . Bounce at the KenCen . . . Cats at the National . . . Ahn Trio at George Mason . . . Big Apple Circus in Dulles.
Rules of the Road Reconsider that SUV, change how kids learn to drive, buy only the car accessories you'll use, and read your owner's manual, says auto expert Pat Goss. Interview by Ken Adelman.
Let Us Pray Together Two strong congregations–one black, one white–come together to celebrate a remarkable 200-year-old bond. By Barbranda Lumpkins Walls.
"Can You Feel the Souls?" How a children's memorial of 11 million paper clips came to touch many lives. By Leslie Milk.
Inside a Private School–the Story of a Cheating Scandal When ten Landon boys got caught up in a cheating scandal, the school's honor was at stake–and students and adults were faced with tough moral choices. By Harry Jaffe.
Word Magic He works with numbers, but it's letters that have brought him glory. By Cindy Rich.
Sharp Shooters Seven top photographers from National Geographic show their best stuff.
Homes of the Local Medical Moguls See where Washington's healthcare tycoons live.
Fearless Flyer She's good enough to play with the boys, but she has nothing to prove. By David Elfin.
Soldier's Story Jeff Kaylor went to war in Iraq, and so did his wife. Back home, his mom and dad disagreed about the war. Then his wife got the word: "Yesterday, outside of Baghdad . . . ." By Tom Philpott.
Great Kitchens A good-cooking section on designing a wonderful kitchen: the 25 top kitchen remodelers; how to get started remodeling your kitchen; tips on make-ahead meals; personal chefs who'll make terrific meals for you; cool gadgets; unusual spices; and more.
My Night With Alex A secret libertarian past, a president's middle name, and other tales of a TV game-show contestant. By Molly Woods.
Benefits Roasts, star chefs, and other good times for good causes. By Maggie Wimsatt.
Rating Area Steakhouses Where to find tender beef, fresh salads, the best sides, and good bargains in wine. By Robert Shoffner.
Dining Out Poste delivers sharply focused flavors at fair prices. Plus reviews of DC's Dupont Grille, Amada Amante and Tony Lin's in Rockville, China Star in Fairfax, and Café Oggí in McLean. By Robert Shoffner, Thomas Head, Cynthia Hacinli, and David Dorsen.
Best Bites Pan-Asian delights in Rockville . . . Vidalia gets a facelift . . . A $100 bottle of beer . . . Ceiba celebrates the flavors of Latin America . . . Cookies to go. By Thomas Head and Cynthia Hacinli.
Wine The southwest of France is not Bordeaux, but its vineyards offer lots of value. By Paul Lukacs.
Real Estate For people with Alzheimer's, a new type of care center offers security, independence, and smiles. By Melanie Burkes.
Luxury Homes Senator Bill Nelson buys for $1.2 million–plus big deals by pundits and doctors. By Kimberly Briggs.
"You Don't Look Like a Kim" He gets invited to meetings of female journalists. People think he and his wife are lesbians. That's life with a girl's name. By Kim Isaac Eisler.