This page describes the contents of an issue of Washingtonian magazine. Subscribers get exclusive early access through our print and digital editions. Most of our feature stories are later published online and linked below.
Buy a Single Issue
Subscribe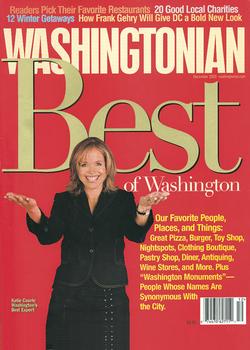 Capital Comment Rating the Bush Cabinet . . . What will Justice Scalia do next? . . . Chef Michel Richard's Washington favorites . . . Has the Post quit cheerleading for the 'Skins? . . . Fight Night in living color!
Where & When New Air and Space center celebrates 100 years of flight . . A Midsummer Night's Dream at the Shakespeare . . . Surrealists at the Phillips . . . Lots of holiday music. By Susan Davidson.
Speaking to the Soul Why you shouldn't think too hard about music, how to conquer stage fright, and the importance of "Pop Goes the Weasel." Interview by Ken Adelman.
A Life of Color and Light Susan Davis loved to paint, and she loved Washington. When a brain tumor paralyzed her right side, she switched hands and kept on creating beautiful pictures. By Chuck Conconi with Robert Barkin.
Going Home Bill Raspberry grew up in a little town in Mississippi where he got something important–a good education. Now he wants to give something back. By Chuck Conconi.
20 Good Local Charities Want to make a difference with your checkbook? Give where it counts. By Reshma Memon Yaqub.
How Frank Gehry Will Give DC a Bold New Look The Corcoran snared one of the world's hottest architects to design a new building. His curvaceous showpiece has inspired shock and awe. Can the Corcoran make it happen? By Larry Van Dyne.
Joe Bob Goes to the Supreme Court The Texas drive-in-movie critic spends opening day with the nine high-court justices, during which he encounters screaming protesters, graven images, and . . . well, see for yourself. By Joe Bob Briggs.
I'll Have the Lobster It has a reputation as a luxury food, reserved for special occasions. But it you look beyond the top steakhouses, you'll find some lobster bargains. By Robert Shoffner.
The Spy Who Came In From 80,000 Feet He was once a spy in the sky for the military. Tom Alison's mission today: show off the long-hidden treasures of the Air and Space Museum. By Brooke Lea Foster.
Best of Washington Our favorite pizza, nightspots, burger, toy store, clothing boutique, pastry shop–you name it. Plus "Washington Monuments"–people whose names are synonymous with the city.
12 Winter Getaways Area resorts and inns offer good packages in the cold months. By Ann Cochran.
On With the Game It was the battle of the season–the middies, led by Roger Staubach, versus Army's cadets. And suddenly the spectator in chief wouldn't be there. By Victor Gold.
Read Me a Story He was a precocious kid who couldn't get enough of books. Eighty years later, he's still reading–and sharing his love of words with the blind. By David Stewart.
Readers Pick Their Favorite Restaurants L'Auberge Chez François returns to the top. Zaytinya is named best newcomer. See who the winners are for best seafood, most romantic, best service, and more.
Best Bites Hotel holiday festivities . . . Thai street food . . . Dine in an urban fishing camp?
Holiday Giving Wine is nice for wine lovers, but don't forget books, glasses, and corkscrews. By Paul Lukacs.
Shopping and Lunching For the holiday rush, a guide to the best department-store dining. By Cynthia Hacinli.
Dining Out Lively Latin flavors at Ceiba from the owners of DC Coast and TenPenh. Plus reviews of Chez Andrée in Alexandria and Jendai in McLean. By Thomas Head and David Dorsen.
Benefits Balls, teas, trees, and other good times for good causes. By Maggie Wimsatt.
Surprise at the White House George Plimpton was a star at any party, but this time he got upstaged. By Willee Lewis.
Luxury Homes Lobbyist Rosen sells for $1.3 million; Senator Mark Pryor turns a quick profit. By Kimberly Briggs.
Luck and Love She accidentally took the coin. Now it's part of who she is. By Julie Lawson.