This page describes the contents of an issue of Washingtonian magazine. Subscribers get exclusive early access through our print and digital editions. Most of our feature stories are later published online and linked below.
Buy a Single Issue
Subscribe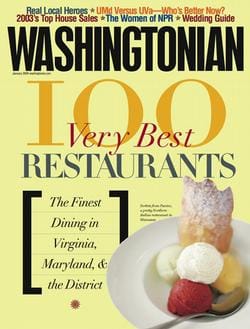 Capital Comment What's in and out in 2004 . . . Who's Dan Snyder afraid of? . . . Power brokers place their bets . . . Post gets an odd Reliable Source . . . Sam Gilliam's Washington favorites . . . Chris Matthews tosses softballs. Edited by Chuck Conconi.
Where & When Washington Ballet dances Balanchine . . . Bette Midler sings Rosemary Clooney . . . Lincoln's hat at American History . . . A "new" Rodgers & Hammerstein musical at Signature. By Susan Davidson.
The Women of NPR Fending off advances, getting yelled at by Ross Perot, why David Letterman isn't nice, and other tales from four eventful lives in radio. Interview by Ken Adelman.
When Fish Growl The unusual ways animals communicate–plus other new books and tantalizing celebrity biographies. By William O'Sullivan.
Are We Going Nuclear? Two nearby nuclear plants supply power to the region–and nuclear's role could grow. So what's it like inside those domes? And what would happen if a terrorist flew a plane into one of our nuclear plants? By Rachel Smolkin.
Real Local Heroes For 32 years, The Washingtonian has honored the people who make Washington a better place. And each year, those who make a difference inspire others. By Leslie Milk AND Ellen Ryan.
Chasing the Dream Victor Page dazzled basketball fans with explosive scoring and acrobatic moves. He spent years trying to follow Allen Iverson to the pros. Then he met with trouble on a DC street. By Brooke Lea Foster.
Eyes on the Prize It's almost 2004 decision time, so here are the nine Democratic candidates–up close and personal. Photographs by Karen Ballard.
UMd Versus UVa–Who's Better Now? The battle is on. One's been the top dog, the other's a scrappy challenger. We pick which has the prettier campus, the better sports teams, the top academics, and more. By Alvin P. Sanoff.
2003's Top House Sales Which Cabinet member bought a home that has 11 bathrooms? What punk rocker sold for $1 million? Check out the year's hottest real estate transactions. By Kimberly Briggs.
100 Very Best Restaurants Where to go for the finest dining in Virginia, Maryland, and the District–plus 20 new restaurants to watch and the restaurateur of the year. By Thomas Head, David Dorsen, and Cynthia Hacinli.
Very Best Wine Lists A great restaurant list should offer a good selection at fair prices. But big dollar signs are where many fall short. Here are the 25 best in the area. By Paul Lukacs.
Best Bites Pan-Asian delights on Pentagon Row . . . a cookbook from the Palm . . . a nifty new wine-and-cheese shop in Reston . . . interesting places to party on New Year's Eve. By Thomas Head and Cynthia Hacinli.
"You Have a Good Aura" She's told she'll find love soon. And she'll move up at work. Ask enough psychics, and you'll live happily ever after. By Ellen Perlman.
Benefits Antiques, dancing, and other good times for good causes. By Maggie Wimsatt.
Wedding Guide Why do mothers and daughters fight over weddings? Here's one mother-of-the bride's experience. By Leslie Milk. Plus our annual guide to planning the perfect wedding–top photographers, caterers, florists, reception sites, and more. Edited by Sherri Dalphonse.
Barely Used Booties Some mothers trade everything from diapers to breast pumps without batting an eye. By Julie Kennon.