This page describes the contents of an issue of Washingtonian magazine. Subscribers get exclusive early access through our print and digital editions. Most of our feature stories are later published online and linked below.
Buy a Single Issue
Subscribe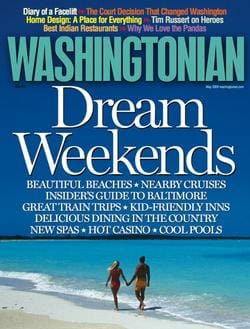 Capital Comment Bushisms vs. Kerryisms–Which will be worse? . . . What skirt lengths say about who'll win in November . . . George Pelecanos's favorites . . . Will the Redskins become the FedExskins?
Where & When American painters at the National Gallery of Art . . . Dogs and wolves at the National Geographic . . . Jazzy women at the Kennedy Center . . . Seven Tennessee Williams plays . . . Beautiful gardens.
Man of the People What Nader and Buchanan have in common, Al Gore's biggest mistake, and other notes of a political insider. Interview by Ken Adelman.
Scenes From a Marriage Behind closed doors with JFK and Jackie–plus new books and recommended reading on everything from baseball to the Middle East. By William O'Sullivan.
Life in the Suburbs David Brooks has a column in the New York Times, a new book, and a fresh take on the species he calls Homo suburbianus. By Alvin P. Sanoff.
Why We Love the Pandas Ling-Ling and Hsing-Hsing are gone, but you'll smile when you meet Mei Xiang and Tian Tian. By Kim Isaac Eisler.
The Decision That Changed Washington Fifty years ago, the Supreme Court struck down laws that sent black and white children to separate schools. The ruling prompted acts of cruelty and courage, and began to change the way we learn and work and live together. By Drew Lindsay.
In the Moment Prize-winning photographs that capture joy and sorrow, struggle and grace.
Ideas and Dreams A theater that creates a very different kind of stage magic. By William Triplett.
"Everything I Ever Dreamed Of" Tim Strachan had a near-perfect life–he was young, strong, and smart, and Joe Paterno wanted him to be his Penn State quarterback. Then on a beautiful summer day, he dove into a wave at Bethany Beach and began learning what's really important. By John Pekkanen.
Tim Russert on Heroes His dad doesn't talk much about the plane crash in World War II except to say that other guys had it harder. But in his quiet way he was as important as the men in the cockpits. By Tim Russert.
Dream Weekends Beautiful beaches, nearby cruises, an insider's guide to Baltimore, delicious country dining, kid-friendly inns, great train trips–plus a new spa, cool pools, a hot casino, and lots more.
Diary of a Facelift At 60, she felt invisible–overlooked by salesclerks and waiters. Would a facelift make a difference in the way people treated her? Would it change how she saw herself? By Leslie Milk.
Benefits Gardens, dancing, and other good times for good causes. By Maggie Wimsatt.
A Place for Everything A home-design section on how to solve storage problems in closets, kitchens, bathrooms, laundry rooms, garages–every room of your house. Plus advice on cleaning away clutter.
Dining Out Great pub food, energy, and fun at DC's Matchbox. Plus reviews of A Caravela in DC, Gadsby's Tavern in Alexandria, Amerigo in McLean, El Tapatio in Bladensburg, and Ri Ra in Bethesda.
Best Indian Restaurants A new generation of authentic restaurants goes beyond tandoori to explore the rich diversity of Indian cooking. By Monica Bhide.
Best Bites Yannick Cam's Le Paradou . . . gourmet goodies and a horse-country carryout . . . where to eat near Arena Stage . . . new-style dining in New Orleans . . . buying the right seafood . . . designer dog biscuits.
Nice and Light Whether it's called Pinot Gris or Pinot Grigio, it's a great summer wine. By Paul Lukacs.
Easy and Convenient A hot tub with a home-entertainment system? Today's luxury homes make everything possible–but not cheap. By Wendy Ann Larson.
Luxury Homes Car magnate John Pohanka sells in Potomac for $1.7 million. Top lawyer Judah Best and Nobel Prize winner Marshall Nirenberg make big deals. By Kimberly Briggs.
Toys for Soccer Moms Was I really sitting around with a bunch of women giggling over "libido-enhancing products"? This wasn't our mothers' Tupperware party. By Heidi Hookman Brodsky.