This page describes the contents of an issue of Washingtonian magazine. Subscribers get exclusive early access through our print and digital editions. Most of our feature stories are later published online and linked below.
Buy a Single Issue
Subscribe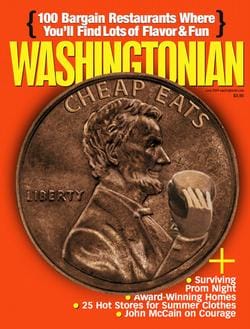 Editor's Notes Raising awareness–and money–to find a cure for brain tumors. By Sherri Dalphonse.
Capital Comment Jenna and Barbara vs. Vanessa and Alexandra . . . Is John Ashcroft on his way out? . . . Big business ties to the 9/11 commission . . . No "sparklies" at the Gridiron . . . Hot rooftop bars.
Where & When Mayan art at the National Gallery . . . Russian icons at Hillwood . . . Eric Clapton at MCI Center . . . The Producers at the KenCen . . . Jazz and blues at Wolf Trap . . . Films and festivals all over town.
At the Ready Preparing for a disaster, and what even a badge won't get you. Interview by Ken Adelman.
It's Party Time Memorable moments from when presidential conventions really mattered. By Victor Gold.
Playing With Tiger Fred Funk failed early and often. Now he's on the tour with the big guys. By Bob Cullen.
Mr. Chairmouse Ex-pols are finding that representing shareholders is no Mickey Mouse job. By Jeff Birnbaum.
Surviving Prom Night Dress disasters, guys in drag, limousine envy, and more on the big night. By Alicia C. Shepard.
Another JFK? Or is John F. Kerry more like Teddy? By Nicholas Owen.
Chasing the Gold Some of the world's best swimmers live here–and dream of Olympic glory. By Lindsay Moran.
Courage That Wouldn't Quit John Lewis endured taunts and beatings–and prevailed. By John McCain With Mark Salter.
Who Can Fix the Schools? DC's classrooms need real leadership. Here are people who might do the job. By Drew Lindsay.
Deeda After 37 years of stylish parties and high fashion, she's leaving town. By Nancy Doyle Palmer.
A Picasso and a Renoir Next Door The Kreegers' art-filled home is one of Washington's hidden gems. By Sherri Dalphose.
Cheap Eats 100 bargain restaurants in DC, Maryland, and Virginia where you'll find lots of flavor and fun. By Thomas Head, David Dorsen, and Cynthia Hacinli.
Good Blends Australian wineries often combine wines from different grapes–with nice results. By Paul Lukacs.
Best Bites Drink to Billy Martin's . . . Cotton-candy man . . . French country in Silver Spring . . . Celebrate cicadas.
Brownies and Binges When eating gets out of hand, there's no room in life for anything else. By Courtney Rubin.
Flat-Screen Envy All he wanted was one of those cool TVs he could hang on a wall. Right. By Kim Isaac Eisler.
Saving Chipo A Mississippi boy, a Detroit girl, and an abandoned baby. By Barbranda Lumpkins Walls.
Benefits Barks, barbecue, and other good times for good causes. By Maggie Wimsatt.
25 Hot Stores for Summer Clothes Want a cute swimsuit? Fun sandals? Cool work wear? Here's where to look. By Alycia Kilpatrick.
The Old Ball Game What ballpark has 15 different beers? A guide to the best of baseball in the region. By Lauren Silva.
Do You Take This Name? Forget the wedding dress, caterer, and flowers. The biggest decision brides wrestle with? Whether to change their last name. By Cindy Rich. Plus–bachelorette parties, home weddings, and more.
Award-Winning Homes Winners of the 2004 Washingtonian Residential Design Awards sweat the details. By Ellen Ryan.
Luxury Homes Former schools chief buys on Capitol Hill, Disney lobbyist sells in Rockville. By Kimberly Briggs.
Penthouse Living Bored with that suburban Colonial? You might want to join the condo boom. By Joshua Green.
I Do . . . Again At friends' weddings, we get to enjoy all the things we didn't have at our own. By Sue Einsenfeld.