This page describes the contents of an issue of Washingtonian magazine. Subscribers get exclusive early access through our print and digital editions. Most of our feature stories are later published online and linked below.
Buy a Single Issue
Subscribe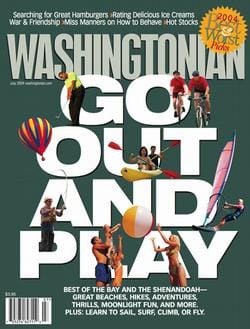 Capital Comment If Green Bay beats the Redskins, Kerry wins . . . Bob Woodward's favorites . . . Can Rumsfeld find peace at Mount Misery? . . .What a girl's drink says about her . . . Living it up with the Dems in Boston.
Where & When Islamic art at the National Gallery . . . The Glass Menagerie at the KenCen . . . Mary Chapin Carpenter at Wolf Trap . . . Diana Krall at Merriweather Post . . . Ingmar Bergman film festival.
Please Don't Kiss Miss Manners! How to act in the office, the problem with gift registries, the right way to use a cell phone, and other advice for good behavior. Interview by Ken Adelman.
Burning Bush Throwing the book at the President, and what's new for summer reading. By William O'Sullivan.
Becoming American Fingerprints, quizzes, government forms, an oath, and a lump in her throat–now she's a citizen. By Eleanor Stables.
War & Friendship They kept each other alive during World War II. Then this summer they came to Washington–and it was life-and-death all over again. By Phil McCombs, photographs by Frank Johnston.
Taking Charge This man pretty much runs DC. No, he's not the mayor, but someday he might be. By Harry Jaffe.
Best & Worst We asked readers to choose the good and the bad, what's in and what's out. Then the editors added their favorite stores, places to play, bargains, restaurants, and more. Edited by Leslie Milk.
Looking for a Winner Figuring the odds in the Kerry veepstakes. By Nicholas Owen.
Four Star Style Theo Adamstein and Olvia Demetriou are Washington's hottest restaurant designers. Here are the tricks they use to make the atmosphere as appealing as the food. By Larry Van Dyne.
Small World He goes everywhere in search of great buildings–the kind that fit inside his luggage. By Matt Bai.
"Forever Your Mommy" When you're 11 and your mom's in prison, you have lots of questions: Should I tell people where she is? How can she tell me to do the right thing? When is she coming home? By Brooke Lea Foster.
Go Out and Play Best of the Bay and Shenandoah–great beaches, hikes, adventures, thrills, moonlight fun, and more. Plus: Learn to sail, surf, climb, or fly. By Matthew Graham, Denise Kersten Wills, AND Eric Wills.
Dinner With Teresa In Teresa Heinz Kerry's Georgetown mansion, tradition prevails. An evening there suggests that she would be a different kind of First Lady. By Russell Warren Howe.
Hot Stocks Booms in real estate, technology, and government spending are good for Washington companies. Plus experts pick 2004's best local stocks. By Wayne F. Nelson and Ellen S. Mclellan.
Rating Delicious Ice Creams A summer guide to the creamiest, tastiest, richest ice cream, frozen custard, and gelato in DC, Maryland, and Virginia. By Cynthia Hacinli, Ann Limpert, and Thomas Head.
Best Bites Farm markets, bite-size desserts, picnics to go, tasting supermarket ice creams, and much more.
Searching for Great Hamburgers A century after its invention, the hamburger is still a dining delight–when it's done right. Here's who does it very well and who doesn't. By Robert Shoffner.
Dining Out Yannick Cam's Le Paradou joins DC's top tier of restaurants. Plus Fiore di Luna in Falls Church, Yuca in DC, Portobellos in Arlington, Red Dog Cafe in Silver Spring, Doughboys in Gaithersburg.
Wines of Summer Warm-weather meals often are fresh, easy, and simple. Here are wines that match. By Paul Lukacs.
Everybody Wins Football's too violent, baseball's too stressful–soccer is perfect for yuppies' kids. And what you think of it says a lot about how you view the world. By Franklin Foer.
Afternoon Bargains Twilight rates offer good golf for a lot less. Here are 15 of the area's best deals. By Kim Isaac Eisler.
Luxury Homes NFL chief Paul Tagliabue buys for $2.2 million. Strobe Talbott makes a deal. By Kimberly Briggs.
Life on the Shore Want to live on the water near great restaurants and shops? Check it out. By Julia Feldmeier.
Don't Ask Being hard of hearing got her into a men's room and won her some loud friends. By Julia Feldmeier.