This page describes the contents of an issue of Washingtonian magazine. Subscribers get exclusive early access through our print and digital editions. Most of our feature stories are later published online and linked below.
Buy a Single Issue
Subscribe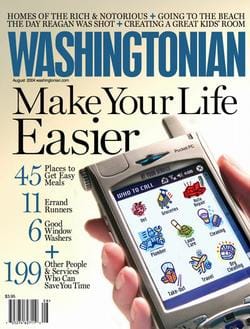 Capital Comment DC lawyers who might defend Saddam . . . Do real men wear pink? . . . The rock 'n' roll bishop picks his favorites . . . Pennsylvania adopts John Kerry . . . Goodbye to Gordon Peterson? Edited by Chuck Conconi.
Where & When American masters at the National Gallery . . . Sally Mann at the Corcoran . . . An antiwar musical at Signature . . . Wine festival in Virginia . . . Lots of free live music under the stars. By Susan Davidson.
A Long Goodbye After a life in TV, Meryl Comer now cares for her husband, who was hit by Alzheimer's disease at age 58. She asks: How can I give up on him? Interview by Ken Adelman.
The Curse of Landover One strange event after another has the Redskins on a losing streak. Joe Gibbs is baffled. Then Dan Snyder gets a mysterious message. By Victor Gold.
Blame It on Jack How Nixon tried to save his presidency by pinning the Watergate break-in on a famous columnist. By Mark Feldstein.
These Were My Lives Was I really a cave-dwelling holy man in a former life? Some people are finding answers to problems–and solace–by seeming to look at their past lives. By Jody Jaffe.
Going to the Beach The drive to Rehoboth passes more than fields and trees. There's Love Point, a murderer's tale, and other interesting history along the way. By Gene Miller.
Almost Famous When she left home in Sterling, Hilarie Burton quickly became a teen star. Despite the red-carpet interviews and jet-set life, she's still a Virginia girl at heart. By Brooke Lea Foster.
Homes of the Rich & Notorious Financiers, bankers, hedge-fund operators, and venture capitalists are making Washington look more like Wall Street. Many of them specialize in the art of the big deal–and live in some big houses.
Rene Went to Law School, Tony Went to Jail Friends in school, their lives took very different directions. Then they met again. By Harry Jaffe.
Make Your Life Easier Never enough hours in the day? Here's a guide to freeing up your time so you can spend it on things you enjoy. How to ease a long commute, get a good dinner in a flash, pay bills in no time, and stop all that spam. Plus–good handymen, housecleaners, errand runners, and lots more.
The Day Reagan Was Shot It was one of the most dramatic events in the city's history. Here's how the President was saved–plus what doctors and nurses remember about that fateful day. By John Pekkanen.
Wheeeee! Where are the best roller coasters? The most overrated? We visited the region's amusement parks to find the scariest rides, best food–and attractions you can skip. By Eric Kay.
A Star Is Born Learning to dance, act, or play the piano used to be kids' stuff. Here are the classes that prep grownups for the spotlight. By J.R. Wellington.
Best of Falls Church The Falls Church area has a wealth of good ethnic restaurants, plus a French-American star. By David Dorsen.
Best Bites Cheap lobster and other restaurant bargains, tasting the top light beers, and more.
Dining Out Café Mozu in DC's new Mandarin Oriental hotel serves vivid Asian-inspired cuisine. Plus reviews of Panache in downtown DC, the Red Heifer in Bethesda, and My Sushi in Cabin John.
Discovering the Loire France's Loire Valley is one of the world's top wine destinations–beautiful scenery, great restaurants, and very good wines that are both affordable and available here. By David Dorsen.
Beyond Retsina Greek wines, made from a variety of grapes, are clean, fresh, and inexpensive. By Paul Lukacs.
Creating Great Kids' Rooms How to come up with a space your child will love: good places to buy furniture and accessories, making great walls, design that helps kids learn, safety tips, and lots more.
Dream Digs Luxury condos are hot properties in DC and the suburbs. Here's where to get in on the ground floor. By Sara Wildberger.
Luxury Homes Redskins star buys for $2 million. New coach settles for $1.2 million. By J.R. Wellington.
Michael, Andre, and Me I just wanted to be on the court with Michael Chang. I ended up taking a 110-mph hit. By Juliana Chan.