This page describes the contents of an issue of Washingtonian magazine. Subscribers get exclusive early access through our print and digital editions. Most of our feature stories are later published online and linked below.
Buy a Single Issue
Subscribe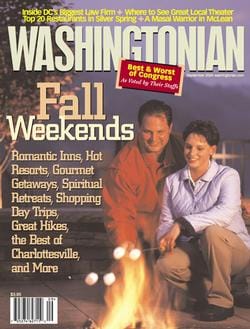 Capital Comment Getting to know Kerry's ex . . . Fearless Redskins predictions . . . New stars at the Post . . . Who has Kerry's ear? . . . Leonard Slatkin's favorites . . . Republican logjam in 2008?
Where & When American Indian Museum opens . . . Jewish history at Library of Congress . . . A US premiere at Studio . . . Macbeth at the Shakespeare . . . Two very different circuses . . . Political comedies at AFI.
What's Your Type? Decoding your personality isn't just a way to know yourself. Workplaces are using these tests to help people get along and be more productive. Interview by Ken Adelman.
Inside DC's Biggest Law Firm Washington's largest law firm is also its oldest. It may not have the richest partners, but it has loyal ones–and a very interesting history. By Kim Isaac Eisler.
What a Wonderful World A psychiatrist extols the power of exuberance–plus Richard Nixon and marijuana, a Bridget Jones for DC, and more from new fall books. By William O'Sullivan.
Best & Worst of Congress Hill staffers dish on their bosses–who's smart and who's not, who's got guts and who's a blowhard.
A Masai Warrior in McLean Most of the year he's a teacher at a local private school. Now some of his students have seen his other life–and they'll never be the same. By Brooke Lea Foster and Cindy Rich.
Radio Faces You may hear their voices every day–here's what some stars of the airwaves look like and how they got where they are. By Chris Baker.
Born to Buck It's not easy being mean, but one place in Maryland has it mastered. It produces some of the country's best buckin' bulls. By Julia Feldmeier.
The Making of John Kerry As a presidential candidate he's becoming more familiar. Less well known are the political novice and family man whom George Butler has photographed off and on for 40 years.
Dad's Greatest Gift He taught his kids a lot, but the main thing he passed on to this son was his love of sailing–and the opportunity to pass its lessons on to another generation. By Tom Ward.
Fall Weekends See why Easton is hot, dangle from the edge of a cliff, tee off at a cool resort, discover your inner chef, take a spiritual journey, snuggle at a mountain inn, and eat very well in Charlottesville.
"Think Only of How Much I Love You" Sylvia and Ray fell in love in an orphanage. They married, raised a family, and kept their past a secret. Then Ray got sick, and their bond was tested one last time. By Brooke Lea Foster.
Where to See Great Local Theater Move over, New York–Washington has razzle dazzle, too. In fact, it's experiencing a theater boom the likes of which it has never seen before. Here's what's in the works–and what's hot this fall.
Benefits Jewels, a grand prix, and other good times for good causes this month. By Maggie Wimsatt.
Goodbye to Amish Country As the modern world encroaches, the Amish are making concessions to technology and looking for new sources of income. But at what cost? By Joshua Kurlantzick.
Want a Top Job? When corporations and associations look for new leaders, they often turn to headhunters. If you're looking for a big salary, you want these people to know you. By Kenneth Bredmeier.
Top 20 Restaurants in Silver Spring With the rebirth of Silver Spring come lots of new dining opportunities–ethnic places, chains, and ambitious new chef-owned restaurants. Plus good places for quick bites. By Cynthia Hacinli.
Dining Out At Restaurant Kolumbia, chef Jamie Stachowski's cooking is innovative and often impressive. Plus reviews of Mourayo in DC, Bistro des Célestins in Arlington, and Capri Restaurant in McLean.
Best Bites Rustic France in Rockville . . . cooking camp . . . great cheddars . . . White House pastry chef tells all.
Classy Chenins Most Chenin Blanc goes into jug wines, but the finest are fruity and good. By Paul Lukacs.
Greed, Lies, and Botox True tales of things people do when great homes are scarce and prices are high. By Scott Lajoie.
Luxury Homes Big deals by Times pundit Tom Friedman and actor Fred Thompson. By J.R. Wellington.
Get Real Inner-city students visit a private boys' school–a lesson in telling it like it is. By Will Arndt.