This page describes the contents of an issue of Washingtonian magazine. Subscribers get exclusive early access through our print and digital editions. Most of our feature stories are later published online and linked below.
Buy a Single Issue
Subscribe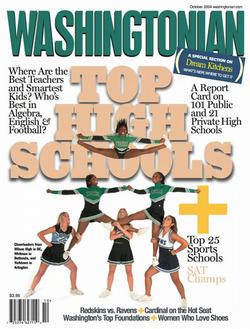 Editor's Notes Goodbye, Diane. Remembering a cherished colleague.
Capital Comment Tall enough to be president? . . . Maureen Dowd's Washington favorites . . . The politics of ketchup and beer . . . How a dog can get you a date . . . Posties can't see Springsteen . . . What to wear when.
Where & When Calder and Miró at the Phillips . . . Jules Feiffer at the DCJCC . . . Denyce Graves in Il Trovatore at the KenCen . . . Grace premieres at Woolly Mammoth . . . Brando retrospective at AFI . . . Ghost tours!
CSI: DC A forensic scientist on how TV portrays his profession, evidence that was ignored in the O.J. Simpson case, and how examining results of crimes can change you. Interview by Ken Adelman.
Red, White, and Sousa 150 years after the March King was born here in Washington, his songs remain some of the world's most stirring and best-loved music. By Ernest B. Furguson.
Washington's Top Foundations Building better communities isn't cheap. Area foundations are funding lots of good works, and more people are starting foundations. By Rachel Smolkin.
Cardinal on the Hot Seat With a controversial Catholic in the presidential race, Theodore McCarrick is seen as the Vatican's man in Washington–and he may play a big role in selecting the next pope. By Chuck Conconi.
Wanted: Tough Guys and Old Pros Whoever wins in November will have important jobs to fill. Here are some people Bush and Kerry are looking at–and some they should. By Nicholas Owen.
Toe Shoes and Fire Boots When she's not battling fires, she's dancing ballet. Talk about a balancing act. By Pamela Leigh.
Mike Was in the Kitchen Chopping Carrots . . .Then pieces went flying, and he said his hand felt stiff. Soon we found out why. He lost the ability to walk and speak, but he never lost his joy in the people and things he loved. By Meg Roggensack.
Faces in the Crowd Portraits from National Geographic celebrate years of history, humanity, and humor.
Redskins vs. Ravens Which team has the easiest parking, the widest seats, the tastiest food, the sexiest cheerleaders, the best owner, the worst views, and is fan-friendliest? Check it out. By Kim Isaac Eisler.
Top High Schools Washington is home to some of the nation's best high schools–and some of its worst. Here is why, plus a report card that tells you who's making the grade. Edited by Drew Lindsay.
Women Who Love Shoes A secret of looking good? Great shoes. Here's why some women own hundreds of pairs, and where to find everything from cute Pumas to sexy Pradas. By Alycia Kilpatrick.
Tell Me a Story She may be the number-one author in Washington, and her books have nothing to do with politics or power. Just ask a ten-year-old kid. By Laura Elliott.
In Praise of Small Plates The small-plates trend has spread beyond tapas and mezze. The little dishes allow diners to have more control over cost, timing, and calories. By Robert Shoffner.
Dining Out At L'Oustalet in Rockville, chef Marcel Bernard serves traditional French fare. Plus reviews of Leftbank and Bangkok Joe's in DC, Supper Club of India in Herndon, La Tasca in Arlington and DC.
Best Bites Pink elephants, disco donkeys . . . autumn at the farm . . . little sandwiches . . . bacon on everything.
Reliable Values Some wines always offer top quality for less money than their competition. By Paul Lukacs.
Benefits Casinos, jazz, and other good times for good causes. By Maggie Wimsatt.
Dream Kitchens What's new in design and appliances, making the most of a small space, home kitchens of the chefs–plus four renovation disasters. By Sara Wildberger, Ann Limpert, and Wendy Ann Larson.
Feels Like Home Continuing-care retirement communities are using new architectural ideas to create better places to live. By Wendy Ann Larson.
Luxury Homes Redskins honcho Vinny Cerrato buys for $2.4 million in Great Falls. By J.M. Wellington.
We Are Not Pregnant Yes, my waistline is expanding, but there's no baby inside. My wife is doing all the work. For me, it's a nine-month wait until I'm useful. By John Huebl.