This page describes the contents of an issue of Washingtonian magazine. Subscribers get exclusive early access through our print and digital editions. Most of our feature stories are later published online and linked below.
Buy a Single Issue
Subscribe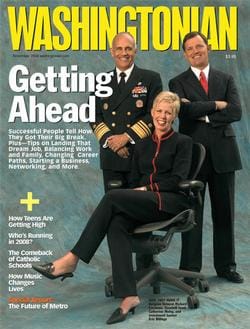 Capital Comment Winners and losers of the Turkey Awards . . . Homes of the Fannie Mae execs . . . The new chic dog . . . Who'll be the Post's next editor? . . . Diane Rehm's Washington favorites.
Where & When Chekhov at Studio's new theater . . . Joffrey's Nutcracker at the KenCen . . . National Archives opens its vaults . . . Movin' Out at the National . . . Godard retrospective at NGA . . . Where to enjoy fall colors.
How Music Changes Lives Playing an instrument takes lots of practice, but it can be fun and offer life lessons. Here's how to interest kids in music from an early age. Interview by Ken Adelman.
Have You Heard of the Gray Ghost? John Mosby was a reluctant rebel who became one of the South's most daring fighters. Northern Virginia is dotted with reminders of his exploits. By Laura Elliott.
Good Connections Five business leaders who forged links to create strong companies and a solid economic base for Washington are picked for the Business Hall of Fame. By Leslie Milk.
How Teens Are Getting High It's no longer just the potheads and the stoners–now the honors students and the athletes are smoking marijuana. By Cindy Rich.
Life of the Party Want a presidential candidate at your event? An Elvis look-alike? Just call. By Emily Kaiser.
Who's Running in 2008? Never mind that 2004 isn't history. Names are surfacing for the next contest. By Nicholas Owen.
She Wants Your Face Can a young MBA with family beauty secrets make it big in the cosmetics game? By Leslie Milk.
Where's Metro Going? Metro is one of the world's best transit systems–it takes 350,000 cars off our streets every day. Now it's facing the challenges of middle age. How can it improve its service, keep fares affordable, protect against terrorists, and serve more of the region? By Larry Van Dyne.
Party Favors Save the campaign buttons and banners–they may be worth something. By Susan Breitkopf.
Getting Ahead Want a great job? Good money? Here's how to find it. Plus tips on balancing work and family, impressing the boss, changing careers, starting your own business, and more.
Good Eating in the Neighborhood DC's upper Northwest is home to many good restaurants–and a few stars. By Thomas Head.
Wine All those Thanksgiving flavors can make choosing a wine hard. Here's help. By Paul Lukacs.
Dining Out At Centro, Liam LaCivita's modern Italian cooking is grounded in tradition and full of flavor. Plus reviews of Urban Bar-B-Que in Rockville, 101 Royal in Alexandria, Sunflower Vegetarian in Vienna.
Best Bites Chefs' tips on livening up Thanksgiving . . . José Andrés brings Mexican small plates to Crystal City . . . Saying cheese in Alexandria . . . Great hot toddies . . . Checking in with CityZen's Eric Ziebold.
Pretty Faces Who makes the most reliable watches? The best-looking? The top values? Here's what to know about buying a good watch, and where to shop. By Ann Cochran.
The Comeback of Catholic Schools For years Catholic schools got by on a wing and a prayer. Now they're booming. How do they match up with the area's best? By Alicia Abell.
Weekend in Paris Direct flights and low airfares spur many people to give thanks abroad. By Kathy McCabe.
Benefits Fight Night, farms, and other good times for good causes. By Maggie Wimsatt.
Luxury Homes Big buys by moneyman Robert Pincus, local media stars, and more. By J.R. Wellington.
Dream Come True Building a house doesn't have to be a nightmare–if you share the heavy lifting with the right people. By Wendy Ann Larson.
Moving Day His grandmother is 92, and her memory now isn't so good, but lots of his best memories are of her. By Leonard O. Newmark.