This page describes the contents of an issue of Washingtonian magazine. Subscribers get exclusive early access through our print and digital editions. Most of our feature stories are later published online and linked below.
Buy a Single Issue
Subscribe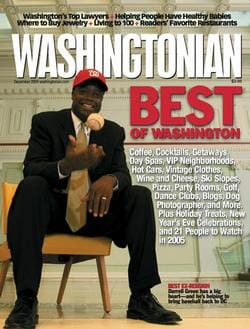 Capital Comment Do's and don'ts from election 2004 . . . Where the Bush twins like to party . . . Tim Russert is the most trusted man on TV . . . Mark Warner vs. George Allen in '08? . . . Harvard mafia still rules at the Post.
Where & When An updated Nutcracker at the Warner . . .Thoroughly Modern Millie at the KenCen . . . Wynton Marsalis and Boys Choir of Harlem at the Lincoln . . . Jewish Film Festival at DCJCC . . . Holiday sights and sounds.
Bumper to Bumper Our traffic is among the nation's worst. Here's what the future holds and what may make your commute easier. Interview by Ken Adelman.
"Just What I Wanted" Good gift books about Hollywood, where writers live, Churchill's paintings, gardens, maps, cartoons, and more–plus new reading. By William O'Sullivan.
Building Hope Whether you pick up a hammer or write a check, here's how to help groups that put roofs over the heads of those less fortunate. By Elizabeth Razzi.
Drinking With the Enemy Yes, there is still a place where Republicans and Democrats can find political refuge and have a friendly talk. By David Lamb.
Taken for a Ride DC cab drivers provide an important service and don't make big money. But some cabbies overcharge and mistreat passengers. An investigation reveals what's wrong. By Michael Patrick Carney.
Living to 100 When you make it to the century mark, there's a lot to look back on–and some things to pass on about how to live well. As told to Ellen Ryan.
Flying High She has two Olympic medals and is touring the country. But there's still high school to finish, and then college. And what about 2008? By Cindy Rich.
Best of Washington Here are some of our favorite people, places, and things–coffee, cocktails, getaways, dance clubs, desserts, neighborhoods, blogs, ski slopes, pizza, boutiques, and more. Plus holiday treats, New Year's Eve celebrations, and 20 young people to watch in 2005 and beyond.
The Wind and the Sea Kevin Fitzgerald is painting beautiful places, and important people are buying. By Keith Bellows.
Top Lawyers Washington is home to some of the world's best lawyers. Here are the top 30–plus 750 who are right behind them. Save the list–you never know when you'll be arrested, get served with a subpeona, need a new will, get a divorce, or worse. By Kim Isaac Eisler.
Benefits Galas, greens, and other good times for good causes. By Maggie Wimsatt.
Readers' Favorite Restaurants L'Auberge Chez François wins again. Ceiba is named best newcomer. See our readers' picks for special occasions, seafood, steak, vegetarian, Italian, romance, carryout, and more. By John White.
Relax and Enjoy French bistros old and new are thriving in area neighborhoods, serving comforting food in attractive, easygoing surroundings. Here are the area's best. By Robert Shoffner.
Dining Out Restaurant Eve in Old Town Alexandria offers first-rate cooking in surprising surroundings. Plus reviews of Black Market Bistro in Garrett Park and Thai Tanic in DC's Logan Circle.
Good Bubbly Champagnes from smaller producers offer distinctive tastes and good values. By Paul Lukacs.
Best Bites Great gift cookbooks . . . Delicious cocoa . . . Guide to good spirits . . . Heaven for chocoholics.
Real Jewels Here are more than 40 places to buy fine jewelry, including pearls, diamonds, and custom creations. By Sherri Dalphonse.
Helping People Have Healthy Babies Can't get pregnant? Worried about a genetic flaw? Want a girl instead of a boy? Welcome to the place where science meets Mother Nature. By Patricia Edmonds.
South to the Sun Florida is easier and more affordable to reach, thanks to low-fare nonstop flights. Here are four seaside destinations to take the chill off winter. By Christine Koubek.
Luxury Homes Nobel winner, new German president cut million-dollar deals as they depart Washington. By J.R. Wellington.
"Not While We're Eating" When you're a vegetarian visiting meat-eating relatives, don't talk about animals at dinner. By Karen Kane.