This page describes the contents of an issue of Washingtonian magazine. Subscribers get exclusive early access through our print and digital editions. Most of our feature stories are later published online and linked below.
Buy a Single Issue
Subscribe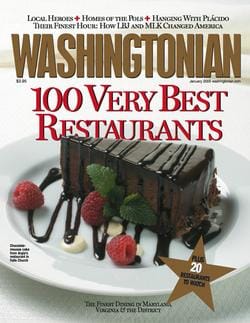 Editor's Notes Five new laureates were inducted into the Business Hall of Fame, showcasing the city's economic strength and giving future business leaders a chance to shine.
Capital Comment Ins and outs of 2005 . . . Why Snyder should fire Cerrato . . . Teresa to fund a Heinz run . . . Condi's favorite date . . . How to talk Texan . . . Best and worst Post columnists.
Where & When Kirov spectacular at the KenCen . . . Washington Opera's Democracy premieres . . . a Norman Allen original at Signature . . . Mark Russell at Ford's . . . Films of Almodóvar at AFI . . . Best places to ice skate.
Fish Stories How to tell if seafood is fresh, the best-tasting fish you can buy, why some costs so much, and other trade secrets. Interview by Ken Adelman.
What Will Last? In our obsession with the present, lots of events are called earthshaking. But what in today's news will matter in 500 years? By James Trefil.
Unveiling Islam Why does Osama bin Laden invoke the Koran? Georgetown's John Esposito, a star among scholars of the Muslim world, will tell you. By Alvin P. Sanoff.
Take That, Donald Trump didn't pick him, but Kwame Jackson turned his TV fame into capital–and Washington comes out ahead. By Cindy Rich.
Local Heroes For 33 years, The Washingtonian has honored people who make the region a better place. This year's winners show what good people can do to make a difference. By Leslie Milk and Ellen Ryan.
Homes of the Pols With the November elections in the books, the winners, losers, strategists, and buzzmakers return to their homes. See where Karl Rove and other stars of Campaign 2004 live.
Hanging With Plácido At 63, the Washington Opera's Maestro still thrills fans. For Plácido Domingo, all the world really is a stage, and he's always on. But what he'd really like to do is see Freddy Adu play. By Bill Thomas.
Here Come the Virginians George Allen is a good ol' boy who chews tobacco. Mark Warner is a moderate who made millions from cell phones. They're political stars, but will either shine in 2008? By Drew Lindsay.
Two Men, One Dream Lyndon Johnson and Martin Luther King were sometimes allies, sometimes enemies, but they shared a vision. Together, they changed America. By Nick Kotz.
He Who Laughs Last? We went looking for the year's liveliest political pictures and found more Democrats than Republicans. In fact, it looks like the Democrats had all the fun.
Lone Star Dynasty The Bushes' political success is indeed a family affair, but not in the way many people think. Strip away the myths and you won't risk underestimating them. By Victor Gold.
100 Very Best Restaurants Where to go for the finest dining in DC, Maryland, and Virginia–plus 20 new restaurants to watch and the restaurateurs of the year. By Thomas Head, David Dorsen, and Cynthia Hacinli.
Best Bites Chefs' secret hangover cures . . . Franco-Indian cuisine near MCI Center . . . New and expanded Italian places in Old Town, Fairfax, and Frederick . . . A swanky new bar and lounge in Arlington.
Australian Bargains Wines from Down Under offer remarkable values in the under-$10 range. By Paul Lukacs.
Mountain Magic A Washington couple escaped from corporate and government worlds to open an inn. Now other Washingtonians are going there for peace and growth. By Dale Leatherman.
My Favorite Cars In three decades of reviewing cars, he's driven just about every one sold in the USA. Here's what he likes best for 2005. By John Harter.
Planning the Perfect Wedding Our annual guide to Washington's best bridal experts–plus affordable sites, true love stories, and going behind the scenes with local wedding planners. Edited by Cindy Rich.
Benefits Antiques, animals, and other good times for good causes. By Maggie Wimsatt.
Luxury Homes Sonny Jurgensen sells his riverside home for $3.1 million, tech mogul Sanju Bansal goes condo in DC, and political insider RIchard Carlson sells in McLean for $3.7 million. By J.R. Wellington.
Back Where I Belong Playing hockey as a kid showed me a new side of myself. Returning to the ice reminded me. By In-Sung Yoo.