This page describes the contents of an issue of Washingtonian magazine. Subscribers get exclusive early access through our print and digital editions. Most of our feature stories are later published online and linked below.
Buy a Single Issue
Subscribe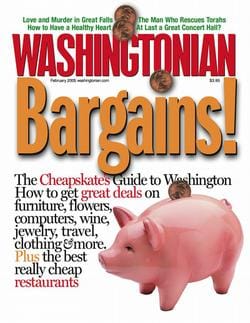 Capital Comment Valentines to remember–and forget . . . Would you rent your house to Jenna? . . . Bob Kinkead's favorite hot dogs . . . Dwight Schar's $70-million mansion . . . Post Company gets a very interesting new director.
Where & When Music Center will open with a flourish . . . Arts of the '40s at the KenCen . . . Contact at the Warner . . . Modigliani at the Phillips . . . Celebrating Paris on the Potomac . . . Out and about at the karaoke bars.
Tough Love The value of throwing a spouse out, why an alcoholic can't drink moderately, substance abuse among the VIPs, and other stories of addiction. Interview by Ken Adelman.
Wild Kingdom Tales of snakes, coyotes, and other animals in our midst–plus the truth about Harvard, funny novels, a thriller, and more. By William O'Sullivan.
Taking Aim at Rumsfeld The Defense chief is getting a bum rap. He's not perfect, but here's why he's the kind of Pentagon leader the country needs. By John Kester.
At Last a Great Concert Hall? What makes a wonderful concert hall? The designers of Strathmore took their cues from the great halls of the 19th century–and may have given us the area's best place to listen to music. By Stephen Wigler.
Somewhere Between a Tragedy and a Nuisance For years he didn't think it was anything serious. Then he found out he was going blind. While there's plenty that he misses, he found unexpected gifts. By David Stewart.
Strike Up the Band The President's Own Marine Band attracts some of the country's top musicians. How do you turn a tuba player into a Marine? It involves a stare, lessons on ironing, and Windex. By Melanie D.G. Kaplan.
The Man Who Rescues Torahs He travels to strange places, makes deals with dangerous characters, spends months doing restorations. You might call him a raider of the lost arks. By Susan Seliger.
Love and Murder in Great Falls An ex-stripper calls to say a triple murder was committed. But no one is missing, there are no witnesses, no bodies have been found. It's not your average homicide case. By Harry Jaffe and Ann Limpert.
Bargains! How to save money on furniture, computers, clothing, theater, tennis rackets, jewelry, weekend getaways, restaurant meals, credit cards, and more. By Reshma Memon Yaqub with Leslie Milk.
Dirt Cheap Eats From adobo pork tacos to stuffed waffles to Vietnamese subs, here's where to get a great meal for under $15 a person. By Ann Limpert, Cindy Rich, and Jeremy Stahl.
Pretty in Pink Rosé Champagnes are good with food and perfect for a Valentine's Day dinner. By Paul Lukacs.
Dining Out Belga Café is Capitol HIll's newest hot spot–with lots of Belgian beers, five kinds of mussels, and the best fries in town. Plus reviews of Jackie's in Silver Spring and A la Lucia in Alexandria.
Best Bites Loverly chocolates . . . A restaurant/fish market in DC . . . Tallula opens in Arlington, Oya in Chinatown.
Great Finds What's fun, what's in style, what's a good buy. By Alycia Kilpatrick and Cathy Alter.
Where Did You Get That? Why wear ordinary jewelry? Here's where to buy pieces that catch the eye–from necklaces and rings made by local artists to exotic gems crafted in far-off lands. By Alycia Kilpatrick and Gail Forman.
Hello, Dali Philadelphia is hosting a big Salvador Dali art exhibit–and celebrating with special hotel deals, Spanish meals, and lower Amtrak fares. By Eleanor Berman.
How to Have a Healthy Heart Her father had four heart attacks and died at 55. She was 47 with bad cholesterol numbers. Modern medicine, she discovered, had an antidote. By Cecilia Capuzzi Simon.
Camp Georgetown For ambitious high-schoolers, summer programs at colleges provide challenges and rewards they won't get from a week in the woods. By Lynne Shallcross.
Benefits Food, wine, love, and other good times for good causes. By Maggie Wimsatt.
Luxury Homes Margaret Tutwiler, Lowell Weicker, and Dick Cheney's daughter make big-dollar deals. By J.R. Wellington.
Living a Dream Thanks to creative financing, good planning, or an unexpected windfall, these couples took the plunge and bought the vacation home they'd always wanted. By Elizabeth Razzi.
One More Valentine As my son outgrows Valentine's Day parties, I hope hearts continue to matter to him. By Pamela Toutant.