This page describes the contents of an issue of Washingtonian magazine. Subscribers get exclusive early access through our print and digital editions. Most of our feature stories are later published online and linked below.
Buy a Single Issue
Subscribe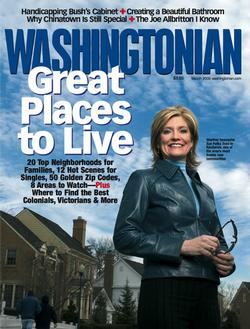 Editor's Notes For 34 years, The Washingtonian has honored good people working to make this a better city.
Capital Comment Condi and Hillary–more alike than you think . . . How much do VIPs get for a speech? . . . A local lobbyist who dines at Subway . . . Septime Webre makes a mean mojito . . . Why DC Democrats need an Ohio restaurant.
Where & When New York City Ballet at the KenCen . . .Toulouse-Lautrec and Rembrandt at NGA . . . Denyce Graves sings Toni Morrison . . . The Tempest at the Shakespeare . . . Martin Scorsese and Sidney Lumet at AFI . . . The circus is in town.
The Wine Guy Robert Parker says that enjoying great wine isn't just for snobs. He says price doesn't always reflect quality, and don't forget–the wine should taste good. Interview by Ken Adelman.
Handicapping the Cabinet Except for a few holdovers, President Bush has shuffled his Cabinet for Act Two. Here's who'll be in the spotlight and how they're likely to perform. By Nicholas Owen.
The Joe Allbritton I Know He's a flamboyant, impulsive, hard-nosed, tightfisted, big-spending, small-town boy turned wheeler-dealer–a jet-setting banker who flies by the seat of his pants. So what makes him tick? By Edwin M. Yoder Jr.
I'm the Law Chatting up people at funeral homes, watching what you say, walking a big dog, working seven days a week, sometimes carrying a big gun. It's all part of being a small-town sheriff. Photographs by David Deal.
Always 8 Still a child at heart, Susan Gilman writes funny things about the kid she was. By Brooke Lea Foster.
I'm a Survivor Jeanette Buck thought she'd found heaven by the ocean. Then she was brutally attacked. She lived to write a haunting play about the crime and the love that saved her. By Leslie Milk.
Lovely as a Flower Looking forward to spring with striking photographs of dogwood, poppies, and more by Joyce Tenneson.
He Drives Me Crazy And vice versa. Here's what loving couples say about men versus women drivers. By Leslie Milk.
This Only Happens to Other People My wife and I assumed we'd become parents with the ease of characters on TV. That was before she doubled over in pain and was rushed to the hospital seven months pregnant. By Howard Gutman.
Great Places to Live A guide to neighborhoods where you can find family fun, hot new condos, beautiful houses, and more. Plus–the area's 50 golden Zip codes. Edited by Drew Lindsay.
Leap of Faith Can you change your life in one weekend? That's the idea of a Maryland retreat that will have you climbing ropes and maybe reaching new heights. By Lisa Armstrong.
Why Chinatown Is Still Special It's almost 75 years old, and you can still find wonderful atmosphere and delicious food in DC's Chinatown. By Robert Shoffner.
Dining Out A fresh taste of luxury at CityZen in DC's Mandarin Oriental hotel, French and Indian flavors blend at IndeBleu in Penn Quarter. Plus reviews of Picasso Grille in Potomac, Pollo Campero in Wheaton, Langley Park, Falls Church, and Herndon, Thai Basil in Chantilly, and Matsuri in Herndon.
Wines From the West Forget California! Washington state now produces wines that are even better. By Paul Lukacs.
Best Bites Miniburgers hit the Hill . . . Deviled eggs are hot! . . . Finding the best smoked salmon . . . A chef's paradise in Bethesda . . . Cooking with Bob Kinkead . . . Luxe eatery in Middleburg . . . European breads in Falls Church.
Great Finds New York style in Georgetown . . . Pretty skirts . . . Affordable decor in Bethesda . . . Footless stockings.
Creating a Beautiful Bathroom A home-design guide to what's new in flooring, showers, tubs, and more–plus finding good bath designers and showrooms. By Wendy Ann Larson.
Benefits Books and balls and other good times for good causes. By Maggie Wimsatt.
Back to School Lifelong learning and a cultural atmosphere make college towns nice places to retire. By Wendy Ann Larson.
Luxury Homes Senator Hagel sells in Great Falls, Wizards center Brendan Haywood buys in Rosslyn. By Mary Clare Fleury.
Growing Up Buchanan When your uncle is Pat Buchanan and you've played field hockey against Al Gore's daughter, it's nice to go someplace where names don't matter as much as who you are. By Liz Buchanan-Crowley.