This page describes the contents of an issue of Washingtonian magazine. Subscribers get exclusive early access through our print and digital editions. Most of our feature stories are later published online and linked below.
Buy a Single Issue
Subscribe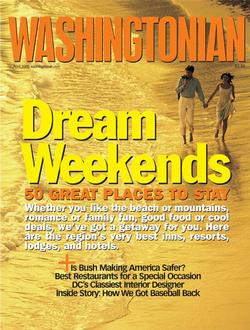 Capital Comment A party the Bush girls didn't get into . . . BlackBerry addicts in the capital . . . The Post critic who wears a kilt and rocks . . . Chris Matthews loves those babes . . . Where the Redskins need help.
Where & When Gilbert Stuart portraits at NGA . . .Pulitzer winner I Am My Own Wife at the National . . . Savion Glover taps at Strathmore . . . Alicia Keys at Constitution Hall . . . Asian cinema at Filmfest DC . . . Cherry blossoms!
Benefits Fishing, football, and other good times for good causes. By Maggie Wimsatt.
Beg, Borrow, or Steal Why there's never been a better time to buy a home, how the most valuable land in Washington got that way, development that's coming, and other tales from a life in real estate. By Ken Adelman.
This Is My Life A Washington native turns family stories into fiction–plus the longest phone call in the world, what a cartoonist reads, Goldie Hawn's memories, and more. By William O'Sullivan.
How We Got Baseball Back Lots of people thought it would never happen–some key people didn't want it to. Even after the deal was done, it was almost blown apart. Here's the inside story–the people, the battles, the deals. By Harry Jaffe.
Double Takes The year's memorable pictures–from politicians and celebrities caught by surprise to ordinary people struggling to survive.
High Notes Her life story would make a good opera: Girl grows up in a trailer, sings at the Met, now is one of the world's most talented sopranos. By Gene Miller.
After the Fall The fall of Saigon in 1975 triggered the exodus of thousands of Vietnamese. Many made their way to Washington and established a thriving community here. A correspondent who covered the war and returned years later describes the surprising changes in both places. By David Lamb.
DC's Classiest Interior Designer How did a local boy become one of the world's top interior designers? It took talent and luck–and inspiration from Washington's monuments. By Nancy Doyle Palmer.
Dream Weekends From the beach to the Chesapeake Bay to the Blue Ridge, here are 50 great places to stay–the very best hotels, resorts, lodges, and inns, all within an easy drive of Washington. Edited by Sherri Dalphonse.
Is Bush Making America Safer? The President knows that protecting the nation is the most important part of his job. Here's how his Texas toughness, his faith, and his politics may get in the way. By John G. Kester.
Great Finds Suzanne Malveaux's style . . . Good reasons to Blush . . . Colorful trench coats for spring . . . Flower power.
Restaurants for Special Occasions It's a big birthday or anniversary, and you'd like to go out for dinner. But where? We sent staffers to area restaurants to celebrate a special occasion. Here's where they found great food, a lovely atmosphere, and wonderful service–and some places that didn't make them feel special at all.
Dining Out Black Salt, a seafood restaurant and market in DC's Palisades, is another hit for chef Jeff Black. Plus reviews of SoBe in Clarendon, 18 Eads Bistro in Crystal City, Passage to India in Bethesda, and New Tokyo in North Potomac.
Spring Sipping Lighter wines like Pinot Gris and Côtes du Rhône are perfect for the changing weather. By Paul Lukacs.
Best Bites Family-run French in Kentlands . . . Linzertortes and tea in Georgetown . . . Meals to assemble in Gaithersburg . . . Fearless frying, spirited desserts on spring menus . . . Virgin drinks and sweets with a punch . . . Lots of new restaurants.
Luxury Homes Drysdale sells Kalorama mansion for $3.6 million. Regardie buys $2.2-million condo. Tagliabue sells home in Bethesda. By Mary Clare Fleury.
Around the Greens Beauty and preserved natural space are two reasons to buy in a golf community. Here are developments that offer golf, shopping, lovely homes, and views. By Susan Breitkopf.
All in the Family You've heard of adult kids returning to the nest. My husband and I didn't quite do that. Instead, we bought a nest just steps away from his parents–and mine. By Reshma Memon Yaqub.