This page describes the contents of an issue of Washingtonian magazine. Subscribers get exclusive early access through our print and digital editions. Most of our feature stories are later published online and linked below.
Buy a Single Issue
Subscribe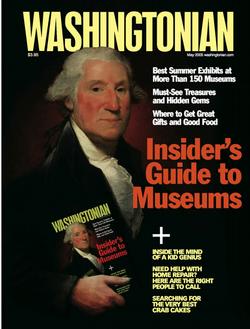 Capital Comment Cardinal McCarrick's loveliest church . . . Chris Buckley thinks Dick Cheney is funny? . . . Graduation speakers on pie alert . . . Mark Brunell buys mansion with nine bathrooms . . . Wild card in Maryland governor's race.
Where & When New Woolly Mammoth opens with a world premiere . . . Vanessa Redgrave at the Kennedy Center . . . The Boss plays the Patriot Center . . . Photos of Japan at the Corcoran . . . Margaret Cho at the Warner . . . Spring festivals and tours abound.
Stop, Pause, Breathe The beauty of slowing down, the drawbacks of too much striving, and how accepting yourself can change you. Interview by Ken Adelman.
Uncle Artie Comes to DC A busload of eightysomethings, memories of war and liberation, and a good laugh at the end of it all. By Philip Lerman.
Tales From the Crib Here are parents who can't say no and kids who want M&M's for breakfast. Forget how hard it is to find the perfect nanny–sometimes the family's no prize, either. By Barbara Kline.
Super Shots A year's worth of photographs captures moments of celebration and protest, tragedy and beauty.
Bullets and Bravos He's gone from a football player singing in the shower to a bounty hunter packing heat to an opera tenor wowing audiences around the world. By Ann Limpert.
Inside the Mind of a Kid Genius When you're 13 and already in college, some parts of life can seem slow–while other things come on too fast. By Brooke Lea Foster.
Guess What's Coming for Dinner Our food comes not only from local farms and fields but also from 170 countries around the world. Fruits, vegetables, meat, and fish are rushed to us by jet planes, ships, and trucks. The selection is big, the origins ever more exotic, and nothing is out of season. By Larry Van Dyne.
Insider's Guide to Museums Here are the best summer exhibits and events at more than 150 area museums, including must-see treasures and hidden gems, and where to get great gifts and good food. Edited by Drew Lindsay.
Benefits Cooking and caring and other good times for good causes. By Maggie Wimsatt.
Great Finds Quick-tanning towels . . . High-end shoes on the Web . . . Versatile exercise tops . . . Splashy tableware.
Searching for the Very Best Crab Cakes What used to be a nice home dish has evolved into our number-one regional delicacy. Here's who makes them best. By Robert Shoffner.
Dining Out Chef James Clark brings sophisticated cooking and Southern flavor to Palette in DC's Madison Hotel. Plus reviews of Regent Thai Cuisine in DC, Rock Creek in Bethesda, Café Spice in Gaithersburg, Oyamel in Arlington, and San Vito in Herndon and Ashburn.
What Goes With Salmon? The versatile fish pairs well with delicate whites and hearty reds. By Paul Lukacs.
Best Bites A palace of sweets in Georgetown . . . A mint julep for Derby Day . . . New places to eat at the beach . . . A talk with Komi's wunderkind chef . . . Baked goodies and more, to go, in Wheaton.
Guide to Home Repair Need hardwood floors refinished? A lamp fixed? A shattered vase pieced back together? Here's where to get almost anything repaired. Edited by Sherri Dalphonse.
Keeping Up With the Jetsons The home of the future is here, with automated lighting, high-tech security, and killer entertainment systems. By Julie Lawson.
Luxury Homes DC schools chief Clifford Janey buys $1.4-million Kalorama house with embassy-size dining room. Tech mogul Barry Schuler cuts $3-million deal in Great Falls. By Mary Clare Fleury.
Highlight of My Day A crossing guard with an MBA? That's me. I like seeing children's smiling faces, and I'm proud to be a small part of their lives as they grow up. By Ann Symonds.