This page describes the contents of an issue of Washingtonian magazine. Subscribers get exclusive early access through our print and digital editions. Most of our feature stories are later published online and linked below.
Buy a Single Issue
Subscribe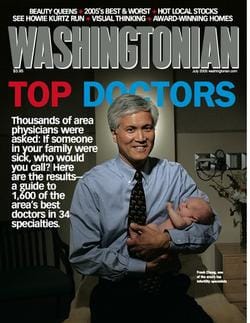 Capital Comment Why you may never see this Senate book . . . When erased e-mail means adultery . . . Coach Gibbs and the team that couldn't shoot straight . . . Preppies bashing preppies online . . . The Post's women at war.
Where & When Crowns returns to Arena . . . Winslow Homer at the NGA . . . Oscar Wilde at the Shakespeare . . . Concert festival at the Cathedral . . . Tom Petty, Emmylou Harris, James Taylor are here . . . Lots of fireworks!
Visual Thinking Running movies in your head, seeing what others don't, discovering the gifts of dyslexia, and other secrets of the brain. Interview by Ken Adelman.
Trash-Can Diaries What they throw away in Cleveland Park, how to dance with a supercan, and other tales from a week as a sanitation worker. By Joshua Foer.
Puzzle People A ten-letter word for "humiliation"? Try "tournament." Here's an inside look at the nation's biggest crossword contest through the eyes of a local guy who thought he was pretty good. By John Pekkanen.
See Howie Kurtz Run He's come a long way from the streets of Brooklyn. After three decades of scoops, he still works as hard as ever. But people are asking: Can you serve too many masters? By Garrett M. Graff.
2005's Best and Worst We asked readers to choose the good and the bad, what's in and what's out. Here are their picks for the best people, dining, stores, sights, and service–and the ones that readers love to hate.
"The Thing About Greg Is That He Has an Interesting Relationship With the Truth" Greg Earls served on the right boards, joined the right clubs, and charmed people into investing lots of money. Was he a con man or a social climber who meant no harm? By Chris Vogel.
Beauty Queens There she is, Miss Tri-County Fair. Also see the Maryland Dairy Princess, the Queen of Tolerance, Queen Nicotina, and more local pageant winners. By Kimberly Forrest, photographs by David Deal.
To Save Someone Else's Son Garrett Smith was a popular kid with a big smile. Then he went into a closet and killed himself. Sharon and Gordon Smith are on a mission to find meaning in their son's act and to protect other families from the pain. By Joanne Kenen.
"Hey, Kid–Kickin' Butt?" If this seven-year-old boy challenges you to a game of chess, watch out–he might beat you before you settle into your chair. By Jeremy Stahl.
Top Doctors We sent questionnaires to 6,500 area physicians asking them what doctors they would send members of their families to in 34 medical specialties. Here are the doctors they picked.
Dining Out Oya brings LA style to Washington, but does the food live up to the decor and the prices? Plus reviews of Riedel's in DC, New Orleans Bistro and Bistro Asiatique in Bethesda, Tempt Asian in Alexandria, and Le Canard in Vienna. By Thomas Head, David Dorsen, and Cynthia Hacinli.
Best Bites Where to eat before a Nationals game . . . Grilling hints from top chefs . . . Cool rum concoctions for summer . . . Tasting sparkling waters . . . Openings and reopenings in Bethesda, Largo, Shirlington, and DC.
Sparklers French Champagne costs too much, but many other countries produce sparkling wine that's both delicious and affordable. By Paul Lukacs.
Great Finds Summer in style–swimsuit cover-ups, jeweled flip-flops, beach makeup, sundresses, sunglasses, and more.
Hot Local Stocks The federal government still drives Washington's economy, but area companies are good at all kinds of things. Plus, experts pick good local stocks. By Wayne F. Nelson and Ellen S. Mclellan.
Award-Winning Homes Judges of the Washingtonian Residential Architecture Awards applauded the "refreshing variety" of this year's entries, both modern and traditional–some new, some renovations. By Ellen Ryan.
Luxury Homes Carville and Matalin sell in Alexandria for $2.4 million. Bush budget czar Joshua Bolton buys in Great Falls for $1.5 million. By Mary Clare Fleury.
Hotspots on the Water Once-blue-collar Baltimore is going upscale with luxury living on the harbor. Plus, fishing villages and quiet towns find new lives as second-home destinations. By Ceri Larson Danes.
My Daughter the Vet Who knows how a city rabbi like me raised a country veterinarian? But I wouldn't question her career choice any more than she did mine. By Bernice K. Weiss.