This page describes the contents of an issue of Washingtonian magazine. Subscribers get exclusive early access through our print and digital editions. Most of our feature stories are later published online and linked below.
Buy a Single Issue
Subscribe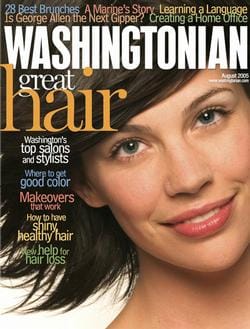 Capital Comment Casting Deep Throat the movie . . . Where Bushies vacation . . . Chuck Conconi picks his favorites . . . The porn industry's man in Washington . . . DC law firms losing heavy hitters? . . . Reporter saves strays in Kabul.
Where & When Pretty women at the Freer . . . Bolshoi Ballet at Wolf Trap . . . Miracle Worker inaugurates Olney's new stage . . . Lucinda Williams at the 9:30, Emmylou Harris at the Birchmere . . . Movies under the stars . . . Fairs and festivals.
After the Fall The perils of shaking things up, the problem with DC's museums, how the arts can save a school system, and other lessons from David Levy. Interview by Ken Adelman.
Jackie and Me In the 1940s and '50s, the Washington Senators weren't very good–but when Jackie Robinson and Joe DiMaggio came through, DC was a great baseball town. By Hugh B. Price.
What's Love Got to Do With It? For most of my life, I didn't know my parents had an arranged marriage. Now that I know the truth, could I do the same? By Nandita Khanna.
A Marine's Story Now that he's home from his second tour in Iraq–back to being a GW student–people who hardly know Todd Bowers ask him, "How many people did you kill?" He'd rather they asked him about those he helped, and all he'd still like to do. By Cindy Rich.
Seeking the Spirit You can experience a world of faiths, cultures, and mysteries without ever leaving Washington. All you need is curiosity and an open mind. By Norman Allen.
Endless Summer Washington isn't exactly Surf City, but Darryl Hatheway rides the waves every chance he gets. Try it, he says, and you may find your soul. By Julie Lawson.
Return of the Gipper? GOP insiders say George Allen reminds them of Ronald Reagan–with a little George W. Bush thrown in. Does that mean he has the right stuff to reach the Oval Office? By Chuck Todd.
Great Hair A guide to Washington's top salons and stylists, where to get good color, makeovers that work, how to have shiny, healthy hair, new help for hair loss, tips on tipping, and more. Edited by Sherri Dalphonse.
Great Finds Cute shoe dressups . . . Denim heaven . . . Pierre Deux returns . . . Personal style: Jacquelyn Fain Duberstein.
28 Best Brunches Finding a good brunch isn't easy. We tried 50 all over the area. Here are the winners.
Dining Out Hank's Oyster Bar in DC has shortcomings, but it's a smash hit with its neighbors and worth a visit. Plus reviews of Mark and Orlando's in DC, Amici Miei in Rockville, and Citrus Cafe in Charles County.
Best Bites The British (pubs) are coming! . . . Tasting fresh mozzarella . . . Gelato truffles in Alexandria . . . Clyde's is back in Chevy Chase . . . Chicken and ribs in Bethesda . . . Casual Italian in Cleveland Park.
Summer Rosés Dry rosés are refreshing, and they go with almost anything. By Paul Lukacs.
Creating a Home Office How to put together a productive and comfortable workspace–good places to buy furniture, getting organized, where to find computer help, tips for sharing an office, and more. Edited by Cindy Rich.
Learning a Language Here are dozens of ways to learn a language–and fall in love with another country. By Kathy McCabe.
Crossword Our first puzzle asks: What's D.C. all about? By Matt Gaffney.
Luxury Homes John Ashcroft buys $1.2-million townhouse in Arlington. Missouri senator Kit Bond trades up in DC's Spring Valley to $2.2-million Colonial. By Mary Clare Fleury.
Hot Condos Once the laggard of the real-estate market, condos are selling in record numbers–and for record prices. But how long can the boom last? By Mark Francis Cohen.
No Game Tonight Dad and I had all the usual issues, but I knew him better than anyone. After Mom died, I thought he would be all right as long as there was something to look forward to. By Kim Isaac Eisler.