This page describes the contents of an issue of Washingtonian magazine. Subscribers get exclusive early access through our print and digital editions. Most of our feature stories are later published online and linked below.
Buy a Single Issue
Subscribe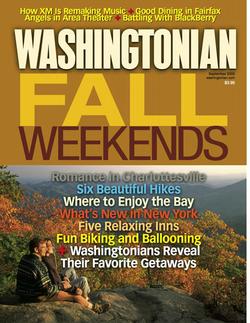 Capital Comment A woman on both tickets in 2008? . . . Famous faces on It's Academic . . . Judy Woodruff picks her favorites . . . Handicapping the DC mayor's race . . . Do conservatives swear more? . . . The Post's best byline.
Where & When Gold, silver, and pearls in the museums . . . Othello at the Shakespeare . . . Elton John at MCI . . . Coldplay at Nissan . . . Ken Ludwig's Leading Ladies at Ford's . . . Latin-American films at AFI . . . A monthful of festivals.
The Godfather Chuck Brown just keeps on go-going. By William Triplett.
Bricks Tell a Story History isn't only in books. Preserving the places where presidents hung their clothes and where people fought wars allows them to live on. Interview by Ken Adelman.
Battling With BlackBerry When BlackBerry burst onto the market, Don Stout thought the technology seemed familiar. Lawyers soon were lined up on both sides. By Kim Isaac Eisler.
Inspired Reading Ginger Man revisited, what a biology teacher likes to read, the best football book ever, and more recommended classics. By William O'Sullivan.
How XM Is Remaking Music In a District warehouse, lovers of music have gathered to play their favorite songs. Aided by satellites, they are changing the way we listen to radio. By Garrett M. Graff.
Real World x 5 They're back! Like lots of college graduates, the Pisner quintuplets have moved back home to save money while they look for work, start jobs, and get ready for real life. By Leslie Milk.
"What Can I Get You, Hon?" Waitresses in words and pictures. By Kimberly Forrest, photographs by David Deal.
Dr. No Remember when Marion Barry was mayor and the District was a financial mess? The man who fixed things arrived here from India with $7 in his pocket. By Harry Jaffe.
Angels in Area Theater People who donate big money to Washington's theater scene don't do it to get rich or to whisper in the ear of the director. Investing in plays and musicals is what they do for love of the theater. By Leslie Milk.
"This Is Not Real Life" She spent four years at an elite private high school and is headed to college. It wasn't easy being a minority with less money than her classmates, but her hopes and dreams never faded. By Brooke Lea Foster.
Fall Weekends Beauty on the Bay, romance in Charlottesville, scenic family hikes, what's new in New York, thrilling biking, rafting, and ballooning, and more places to get away. Edited by Sherri Dalphonse.
Great Finds Clothes, accessories, and more for tots and moms, too. By Nadya Sagner and Cynthia Hacinli.
Good Dining in Fairfax Growth in Fairfax City, Fair Lakes, and Fair Oaks means lots more interesting new places to eat. By David Dorsen.
Dining Out Dino brings a bit of la dolce vita–and seven kinds of crostini–to DC's Cleveland Park. Plus reviews of Domku in DC's Petworth, Old Homestead Steak House in Bethesda, Caribbean Sea in Silver Spring, Oriental Regency in Vienna, and FireFlies in Alexandria.
Best Bites Thai treats in Silver Spring, beyond sushi in Georgetown, what chefs' kids eat for lunch, and more.
Marvelous Merlots It's trendy to look down on Merlots, but the best ones deliver lots of pleasure. By Paul Lukacs.
Ode to New Orleans Chef Jeff Tunks tries to re-create authentic Cajun and Creole flavors in a comfortable DC setting. By Thomas Head.
Bringing Molly Home After years of fertility treatments, church-basement meetings, and paperwork, they traveled to China and finally met the daughter they were meant to adopt all along. By Maureen Corrigan.
Benefits Chili, concerts, and other good times for good causes. By Maggie Wimsatt.
Crossword This month's puzzle clues you in on club-hopping around town. By Matt Gaffney.
Luxury Homes Tech star Carly Fiorina buys $3.6-million condo. Policy adviser Stephen Goldsmith pays $3.6 million in Georgetown. Cellist Marta Istomin settles in Foggy Bottom for $1.1 million. By Mary Clare Fleury.
Double Trouble When she was a kid, having two first names was no big deal. Now it seems it's just not done. But she's not giving up either one. By Mary Clare Fleury.