This page describes the contents of an issue of Washingtonian magazine. Subscribers get exclusive early access through our print and digital editions. Most of our feature stories are later published online and linked below.
Buy a Single Issue
Subscribe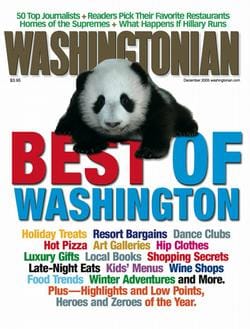 Capital Comment What their handwriting reveals about John Roberts, George W., Condi, Hillary, and more . . . Who'd star in Plamegate: The Movie? . . . Inside the vast right-wing conspiracy . . . Scooter Libby's lawyers . . . Where hungry politicos eat.
Where & When Wicked comes to the Kennedy Center . . . Washington Ballet dances The Nutcracker . . . Lang Lang performs with the NSO . . . Damn Yankees at Arena, Les Miz at the National, Evita at the Warner . . . Wonderful holiday music all over.
Mother Hen The good side of nagging, who is most at risk of HIV, the privilege of helping the terminally ill, and other lessons from a life in nursing. Interview by Ken Adelman.
What Lombardi Would Do The legendary coach led the Redskins for only one year, but he laid the groundwork for the championships that followed. How would he handle today's players? By Victor Gold.
What Happens If Hillary Runs Three years before the election, the political buzz is all about Hillary. Will she or won't she? Can she or can't she? Here's how the four possible scenarios could play out. By Chuck Todd.
50 Top Journalists Technology is changing where we get our news. But great journalists still make a difference. So who sets the agenda? And what separates the best from the good? By Garrett M. Graff.
Best of Washington Some of our favorite things: art galleries, holiday treats, dance clubs, shopping secrets, hip clothes, winter adventures, and more. Plus highlights and low points, heroes and zeroes of the year.
"Do They Want Me?" With dreams of a better life, orphans come to stay with local families who might adopt them. It could be a summer vacation, or it could be a mom and dad. By Brooke Lea Foster.
Great Gift Books Remote places, exotic creatures, Broadway, Hollywood, and more. By William O'Sullivan.
Treasure Hunter Curator Andrew Robison of the National Gallery of Art travels the world coaxing prints and drawings from collectors and looking for great buys. By Larry Van Dyne.
Homes of the Supremes The men and women of the Supreme Court possess soaring intellects. But when they leave their chambers, they head to unassuming homes that display a large measure of judicial restraint.
"Don't Hurt Me, I'm Just a Kid" Thieves as young as seven years old make off with about 50 cars a day–sometimes while armed. Here's why they steal, and what should be done to stop them. By Michael Patrick Carney.
Benefits Candles, concerts, and other good times for good causes. By Maggie Wimsatt.
Dining Out Jeff Tunks's Acadiana conjures up old New Orleans–and a familiar formula. By Todd Kliman. Beyond the buzz at Willow in Arlington. By Cynthia Hacinli.
Fine Bubbly, Fine Print Small-grower Champagnes are distinctive, delicious, and worth seeking out. By Don Rockwell.
Readers Pick Their Favorite Restaurants Tradition, tradition–L'Auberge Chez François again dominates the field; Kinkead's, Huong Que, and Sushi-Ko are all best in class. By John White.
Rainbow Room With his new restaurant, Andy Shallal is taking on the problems of race and class on U Street. But for some, the solution is itself a problem. By Todd Kliman.
U-Turning Thanks to a bustling restaurant culture–made up of stylish newcomers and trusty standard-bearers alike–U Street is reinventing itself yet again. By Thomas Head.
Best Bites Chefs' favorite kitchen gifts . . . Great pizza by the slice in Tysons Corner . . . Iron Chef wit and wisdom . . . What a fancy restaurant meal really costs . . . Oxtail goes haute . . . New cookbook shares chefs' secrets.
Great Finds Gifts that Washingtonians love to give and get–plus where they shop. By Alycia Kilpatrick.
Family Jewels Antique jewelry is fun, beautiful, and affordable–if you know where to shop. By Cathy Alter.
Crossword The ripe stuff. By Matt Gaffney.
Luxury Homes Aspen Institute's Elliot Gerson sells to lawyer Rick Rule for $3.7 million. By Mary Clare Fleury.
I Slept With Johnny Depp And dated Robert Redford, starred with John Travolta, and outran O.J. Then I woke up. By Jay Sumner.