This page describes the contents of an issue of Washingtonian magazine. Subscribers get exclusive early access through our print and digital editions. Most of our feature stories are later published online and linked below.
Buy a Single Issue
Subscribe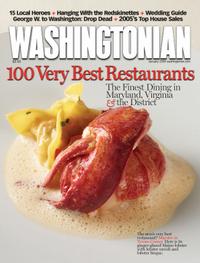 Spotlight Our Business Hall of Fame celebrated five laureates and raised more than $1 million for Junior Achievement.
Capital Comment Odds on big news in 2006 . . . Holiday surprise! Snyder doubles price of Redskins club seats . . . Ghosts in Edward R. Murrow's house . . . The new trend: science mixed with cocktails . . . Walter Johnson High's most infamous alum.
Where & When B.B. King celebrates at Constitution Hall . . . Tuesdays With Morrie at the Warner . . . Stunning Turkish costumes at the Sackler . . . WPAS Gospel Choir with Sweet Honey in the Rock at the KenCen . . . Neighborhood art-gallery walks.
"I Want a New Kitchen" A professional's advice on remodeling–where to start, what you can expect to pay, its effect on a home's value, and more. Interview by Ken Adelman.
Fight of His Life No matter how tough Sam Alito's confirmation hearings are this month, Senate Judiciary Committee head Arlen Specter has been taking on a much harder challenge. By Charles Hurt.
Got Any Smart Pills? Adderall is an amphetamine prescribed for people with attention deficit and hyperactivity disorder. But kids on campus are taking it to improve test performance and have a good time. By Harry Jaffe and Alex Chip.
15 Local Heroes For 34 years, The Washingtonian has honored those who make the region a better place for all. This year's winners prove once again that good people can and do make a difference. By Leslie Milk and Ellen Ryan.
Hanging With the Redskinettes They wear skimpy outfits and lots of makeup. They work long hours for little money. Why would smart women–Georgetown graduates, teachers, engineers–want to be Redskins cheerleaders? Behind the scenes, the life of a Redskinette isn't always what it seems. By Michael Patrick Carney.
Ben, Can You Dance? Friendly advice for the man who would succeed Alan Greenspan. By Nicholas Owen.
2005's Top House Sales Senators and sports stars, high-tech tycoons and TV journalists made some of the year's biggest deals, buying and selling historic estates, chateaulike mansions, luxury riverfront townhomes, and your basic $4.7-million Kalorama Colonial. By Mary Clare Fleury.
George W. to Washington: Drop Dead There's not much about the nation's capital that the President likes. He just works here, and he'd rather be in Texas. Here's why. By Fred Barnes.
Cézanne's Big Show For most of his life, Paul Cézanne painted in isolation and to little acclaim. Now, a century after his death, an exhibit at the National Gallery of Art honors the artist. By Susan Davidson.
100 Very Best Restaurants The finest dining in the District, Maryland, and Virginia–plus restaurateurs of the year, great new desserts, best restaurants for wine, dream dinners of the critics, modern takes on classic dishes, and a handy fold-out guide. By Todd Kliman, Cynthia Hacinli, and Ann Limpert.
Great Finds How Washingtonians stay in shape–and the gyms and gear that help. By Alycia Kilpatrick.
Pumping Neurons Two painless therapies claim to retrain brain waves and help people who have memory problems, depression, insomnia, headaches, even a bad golf game. By Jody Jaffe.
Crossword DC's bubble trouble. By Matt Gaffney.
Benefits Antiques, animals, and other good times for good causes. By Maggie Wimsatt.
Wedding Guide Washington's best reception sites, caterers, florists, photographers, musicians, and more. Plus, theme weddings and how to plan a wedding in seven months or less. Edited by Cindy Rich.
How to Date a Lawyer Be prepared to hear opening arguments over drinks, get cross-examined during dinner, and feel like dessert is another billable hour. By Elizabeth Khalil.
Gas Guzzlers Are Out With gas prices up, fuel efficiency is a big deal. Hybrids are getting peppier and more luxurious, and there are other good cars that can go far between fill-ups. By John Harter.
Don't Sell Me Short Yes, I can read grown-up books all by myself–I'm in my twenties. But that doesn't stop people from trying to fix me up with middle-schoolers or carding me for PG-13 movies. By Sara Levine.