This page describes the contents of an issue of Washingtonian magazine. Subscribers get exclusive early access through our print and digital editions. Most of our feature stories are later published online and linked below.
Buy a Single Issue
Subscribe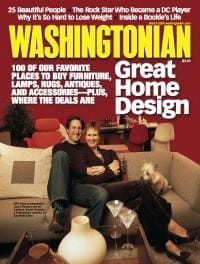 They Make Us Proud For 35 years, The Washingtonian has honored good people who make this a better place for all of us.
Capital Comment Ben vs. Alan . . . Washington at the Oscars . . . Paid to picket . . . Kornheiser vs. Cosell . . . Robin Givhan zings.
Where & When Dada at NGA . . . Washington Opera starts Ring cycle . . . Country stars at the KenCen . . . Let's go bowling!
On Pointe Tess Reichlen has soared to success, and a soloist spot. By Lori Smith.
"Yes, We Can" Gallaudet's president proved deaf people could do anything but hear. Interview by Ken Adelman.
Face-Off on I-95 Doug Duncan and Martin O'Malley both want to be governor of Maryland. By Eugene L. Meyer.
A City of Bridges Bridges bring us together, keep us moving, and create beautiful views. By Larry Van Dyne.
Zen and the Art Andrea Way finds inspiration in nature, music, and meditation. By Susan Baer.
25 Beautiful People Sometimes brains come wrapped in surprising packages. By Brooke Lea Foster and Kim Forrest.
The Rock Star Who Became a DC Player U2's Bono used his fame to get in, then took the time to learn how Washington works. By Susan Baer.
Slam Dunks Two young coaches have the hottest teams in town. By Harry Jaffe and Chris Wilson.
Great Home Design 100 of our favorite places to buy furniture, lamps, rugs, antiques, and home accessories—plus, where the deals are. Edited by Sherri Dalphonse.
Great Finds Personal styles: A woman with 200 handbags, and three dapper Wizards. By Alycia Kilpatrick.
My Friend the Portobello For area vegetarians, restaurants' good intentions don't always mean good food. By Robert Lalasz.
Dining Out Rasika makes a bold if not always convincing case for Eastern spicing and Western presentation. By Todd Kliman. Plus reviews of Sette Bello in Clarendon and Dahlia in DC.
Best Bites Stylish mezze in Old Town . . . The best butter . . . Poached eggs all over . . . How the new burgers stack up.
A New Rice Age Sake is hot. It's turning up all over town. But not all sakes are created equal. By Don Rockwell.
The Italians Won! Fine dining in DC once meant French. Then came the authentic Italians. By Robert Shoffner.
The Next Thing I Knew A driver sent him flying into a DC street—and that was just the beginning. By David Stewart.
Inside a Bookie's Life A Holocaust survivor ran one of the area's most successful sports books. By Chris Vogel.
Why It's So Hard to Lose Weight The key may be tricking your body out of its desire to hold onto those pounds. By Leslie Milk.
Benefits Rhinestone rhapsodies and other good times for good causes. By Maggie Wimsatt.
Luxury Homes Capitals player Dainius Zubrus buys Bethesda Colonial for $1.4 million. By Mary Clare Fleury.
Among Friends With senior cohousing, neighbors take care of neighbors in a close-knit community. By Kerry A. White.
Crossword Round and round: The road never ends. By Matt Gaffney.
Like Father, Like Daughter Following in the footsteps of an icon, Andrea Koppel has made a name for herself. By Kelly DiNardo.
Tell-Tale Heart An artificial valve keeps her heart ticking—and keeps her awake at night. By Barbara Shine.