This page describes the contents of an issue of Washingtonian magazine. Subscribers get exclusive early access through our print and digital editions. Most of our feature stories are later published online and linked below.
Buy a Single Issue
Subscribe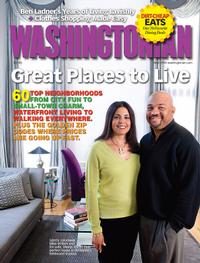 Capital Comment Clever college-admissions tricks . . . Chertoff's friends in high places . . . Weatherman Tony Perkins's favorites . . . Power lunching in Georgetown . . . What it costs to stay in the know . . . The Post's Pulitzer prospects.
Where & When Renoir returns to a new Phillips . . . All-male Swan Lake at the Warner . . . Black Eyed Peas at Merriweather Post . . . Royal Shakespeare Company at KenCen . . . Dave Chappelle comes home . . . Filmfest DC . . . Cherry blossoms!
Not Real Simple Why income-tax returns are so complicated, the pros and cons of a flat tax, savings incentives you should know about, and more tips from an expert. Interview by Ken Adelman.
Life Stories Good books about music legends, strong women, presidents, and more—plus how local biographers get inside people's heads. By William O'Sullivan.
Senator Tom Davis? He'll run one more time for the House—then he has his eye on John Warner's Senate seat. But can DC's best friend in Congress get his party's nod? By Chuck Todd.
Saving My Son In his twenties Mike started having breakdowns. When the author tried to get him help, he found out that our mental-health system now is mostly jails and prisons. By Pete Earley.
Big Pictures Grace, victory, survival, and joy are captured in the year's best photographs.
The Cheering Never Stops Cal Ripken Jr. is still Mr. Baseball. Although he played in Baltimore, a good case can be made that Washington is where he belongs. By Carl M. Cannon.
Read Me a Story Steve Hersey collects used books—to change children's lives. By Tamar Abrams.
Ben Ladner'sYears of Living Lavishly American University's president and his wife were behaving like billionaires—until their extravagant ways finally caught up with them. By Harry Jaffe.
Luminous Mysteries Robin Rose's richly textured wax paintings reveal themselves slowly. By Susan Baer.
60 Great Places to Live Top neighborhoods: from small-town charm to city fun, waterfront living to walking to everything. Plus the golden zip codes where prices are going up fast.
Clothes Shopping Made Easy Stylish women tell what they're buying for spring; favorite personal shoppers; secrets of home trunk shows; and this season's fashion advice. By Alycia Kilpatrick and Piper Fogg Gould.
Benefits "Boating Party" bash and other good times for good causes. By Maggie Wimsatt.
Great Finds The color of the season: white. Here are pieces to perk up any wardrobe.
Dirt Cheap Eats 70 delicious meals for under $15, including four great dirt-cheap neighborhoods and where restaurant cooks eat cheap. By Ann Limpert, Todd Kliman, Cynthia Hacinli, and Matt McMillen.
Secret Agents Local wine importers are valuable collaborators in a mysterious process. By Don Rockwell.
Dining Out David Craig's new place in Bethesda strikes a blow against fussy dining—and for deep flavors. By Todd Kliman. Plus—bewitching flavors and bewildering lapses at Zengo in DC. By Cynthia Hacinli.
Best Bites South Beach comes to K Street . . . In Turin with Phyllis Richman and Roberto Donna . . . Good Passover wines (really) . . . Cooking shad roe . . . Chefs choose their last meals . . . Where chicken livers get respect.
Your Own Resort Buying a second home in a golf community lets you relax on weekends. By Alice Shapin.
Luxury Homes Dan Snyder sells in Bethesda. Darcars head takes $4.5-million penthouse. By Mary Clare Fleury.
Washington Crossword The shape of things. By Matt Gaffney.
Mo Knows Basketball Will the Blue Devils sensation from Washington come home to play with the Mystics? By Alex Chip.
First Person The words above are the most important advice the writer has ever received. By Francis Slakey.