This page describes the contents of an issue of Washingtonian magazine. Subscribers get exclusive early access through our print and digital editions. Most of our feature stories are later published online and linked below.
Buy a Single Issue
Subscribe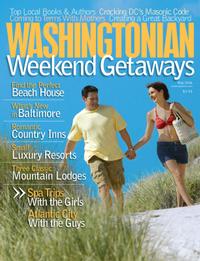 Capital Comment Who buys what at big charity auctions . . . Lou Dobbs as Ross Perot? . . . Bob Barnett's favorites . . . GOP and Dems look for new Hill leaders . . . DC's power prep school . . . Big names at Post to leave?
Where & When Mame at the KenCen . . . Last chance for Dada and Cézanne at NGA . . . Chick Corea at Blues Alley . . . Grant Wood at the Renwick . . . Pearl Jam at Verizon . . . Cinco de Mayo on the Mall.
True Believer What Mel Gibson missed, standing up to murder, and other stories of faith on film. Interview by Ken Adelman.
What's She Doing in the Locker Room? The first woman to cover the Redskins found an unlikely defender. By Christine Brennan.
Coming to Terms With Mothers All mothers and daughters have history—not all of it happy. At 50, the author learns that the biggest favor she can do herself—and her mother—is to work things out before it's too late. By Iris Krasnow.
How Not to Feed a Family In some parts of Washington, it's hard to put a healthy meal on the table. By Carol Guensburg.
Cracking DC's Masonic Code Dan Brown's sequel to The Da Vinci Code is set in Washington and involves the city's mysterious ties to Freemasonry. Here's a guide. By Paul Dickson and Thomas B. Allen.
Mommy Talk Two tech-savvy Virginians created their own dishy podcast for moms like them. By Kim Forrest.
"What Are You Wearing to the Tea, Bob?" Meet a very exclusive group—the husbands of the women in the Senate. By JoaNne Kenen.
Top Local Books and Authors Washington is a good place for book lovers. Here's a guide to interesting books by Washingtonians, writers to watch, notable bookstores, and more. By Wendi Kaufman.
Lovely Place for a Ride Rediscovering the joys of bicycling on Washington's 100-plus miles of bike trails. By David Lamb.
911? Send Help to the White House! Bush's presidency is in trouble, and loyal nobodies won't save it. It's time to send in the dream team.
Weekend Getaways Beach or mountains? City or country? Whatever your pleasure, we've got a dream weekend. Spend a day in Baltimore, relax at a spa, check into a romantic inn, rent a great beach house—and lots more.
Southern Exposure When the new Indigo Landing hired Bryan Moscatello, it got a young, award-winning chef. Here's how a Jersey guy went to Charleston to master Lowcountry cooking. By Todd Kliman.
Beating the System Tired of outrageous wine prices in restaurants? Discover the secret of corkage. By Don Rockwell.
Dining Out Peter Chang's cooking has brought him fame and fans. At Szechuan Boy in Fairfax City, he's doing better than ever. By Todd Kliman. Plus—a Taste of Morocco in Silver Spring. By Cynthia Hacinli.
Best Bites Bagel tasting . . . Promising newcomer in Vienna . . . Inside Michel Richard's fridge . . . New treasure fish.
Great Finds Cosmetics that Washington women swear by and where to find them—plus hot products for summer.
Benefits Guppies and galas and other good times for good causes. By Maggie Wimsatt.
Creating a Great Backyard Beautiful gardens, what you need to know about decks, how to get more privacy in your yard, plants that don't require a green thumb, what's new in grills, good landscape designers, and more.
Really Smart House Shut off lights from a computer, start a pot of coffee from abroad—and that's not all. By Ellen Ryan.
Luxury Homes Charles Percy home in Georgetown goes for $4.1 million. By Mary Clare Fleury.
Washington Crossword Between the covers. By Matt Gaffney.
Dawn Patrol You have to get up early to be one of the world's top rowers. By Mary Clare Fleury.
The Betty Mystique The real-life person who launched the modern women's movement. By Cecilia Capuzzi Simon.