This page describes the contents of an issue of Washingtonian magazine. Subscribers get exclusive early access through our print and digital editions. Most of our feature stories are later published online and linked below.
Buy a Single Issue
Subscribe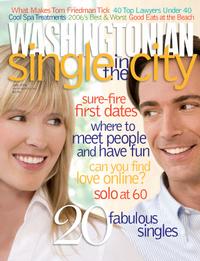 Editor's Notes Celebrating—and learning from—Washington's powerful women.
Capital Comment Homes of the Nationals' owners . . . Dan Snyder takes a hit . . . New faces at the Post.
Where & When American Art Museum reopens . . . Chicago at Wolf Trap . . . Paul Simon at Merriweather Post . . . Fireworks!
Buzz Builder Listening to gossip about Desperate Housewives, the future of blogs, and other secrets of the high-tech marketplace. Interview by Ken Adelman.
Guilty Pleasures Hard-boiled thrillers, comic memoirs, romantic novels, and other books local authors read when no one's looking. By William O'Sullivan.
Road to the Future President Eisenhower helped create interstate highways, which allowed Americans to get in their cars and go places. The seeds were planted on a daring trip he took much earlier. By Paul Dickson.
Return of the Eagle Ben Franklin wanted the turkey as America's symbol, but the Founding Fathers chose the eagle. Near extinction, the eagle has made a remarkable comeback. By Larry Van Dyne.
The Rookie Ryan Zimmerman is 21, humble, hard-working, and a fan favorite. Even the veterans like him. One thing's for sure: The kid can play. By Harry Jaffe.
A New National Mall for the 21st Century A bold plan expands it and puts the Supreme Court at its center. By Arthur Cotton Moore.
What Makes Tom Friedman Tick He's the great explainerbig issues such as why we're at war and why jobs are moving overseas. He also loves hitting a little white ball in Bethesda. By Garrett M. Graff.
Best & Worst of 2006 The votes are in: Readers love Five Guys, Old Ebbitt, Jim Vance, and Gilbert Arenas. They don't like flying out of Dulles. Here are the winners and losers of this year's Best & Worst poll. Edited by Leslie Milk.
40 Top Lawyers Under 40 In law, as in so much else in Washington, seniority has ruled. But that's changing. Here are 40 fresh faces who are making names for themselves. One secret: Find the right mentor. By Kim Isaac Eisler.
Singles in the City Single life in Washington is nothing if not an adventure. There's the good, the bad, and often the comical. Here's a guide to making the most of it, starting with one woman's journey through the dating maze.
Cool Spa Treatments Perfect pedicures, painless waxing, shinier hair, celebrities' favorite spas, faking a tan, and more.
Good Eats at the Beach Rehoboth Beach and surroundings offer a lot of possibilities for those who'd as soon spend the day eating as sunning. Here's our guide to shore dining. By Todd Kliman, Cynthia Hacinli, and Ann Limpert.
Dining Out Does Indique Heights extend the innovations of the original Indique? By Todd Kliman. Plus, small plates and Korean classics at a new Woo Lae Oak. By Cynthia Hacinli.
Best Bites First look at Rustico in Alexandria . . . Tasting old-fashioned lemonade . . . Do-it-yourself Vace pizza.
Thinking Pink A perfect partner for the dishes of summer? The new rosés are hard to beat. By Don Rockwell.
Capital Gains The federal government still drives Washington's economy, but area companies are good at all kinds of things. Plus, experts pick good local stocks for 2006. By Wayne F. Nelson and Ellen S. McLellan.
Fresh Waters You don't have to brave Bay Bridge traffic for great waterfront property. By Katie bindley.
Luxury Homes Senator Kay Bailey Hutchison buys a $1.6-million Colonial in McLean. By Mary Clare Fleury.
Washingtonian Crossword Zoology. By Matt Gaffney.
Spotlight "At the Udvar-Hazy Airplane Museum, Dulles, Virginia." Poem by Linda Pastan.
Mommy Daze Other mothers on the playground have cute outfits and informed opinions. By Nancy Markoe.