This page describes the contents of an issue of Washingtonian magazine. Subscribers get exclusive early access through our print and digital editions. Most of our feature stories are later published online and linked below.
Buy a Single Issue
Subscribe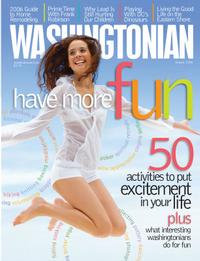 Capital Comment Who does what at the beach . . . Bush's vacation . . . Redskins questions . . . Influential lawyers.
Philip Merrill: Remembrances
Where & When William Wegman's dogs at NMAA . . . Marriage of Figaro at Wolf Trap . . . Dixie Chicks at Verizon . . . Cool treats.
Serving Up Winners A tennis champion is helping kids in the game of life. By Caleb Hannan.
Creativity Central How the city's "creative class" ranks, the importance of tolerance, and more. Interview by Ken Adelman.
Getting In Senior year of high school is defined by one thing—getting into the right college. By Alexandra Robbins.
The Decision The war in Europe was won. Now, how to stop Japan? By Thomas B. allen and Norman Polmar.
Playing With Dinosaurs Assembling a triceratops isn't easy—but it's fun. What will these scientists do next? By Chris Wilson.
Strange Bedfellows He's a cat guy. She's a dog person. He's helping Hillary. She's helping the competition. By Susan Baer.
Living the Good Life on the Eastern Shore White sails, cool breezes, and more lure Washingtonians across the Chesapeake. By William Thompson.
Prime Time With Frank Robinson The Nationals' tough guy tries to instill passion in one more generation of players. By Carl M. Cannon.
The Unsinkable Mark Bisnow The ex-political operative, lawyer, tech evangelist, and radio host is an e-media mogul? By Leslie Milk.
Why Lead Is Still Harming Our Children Lead is gone from gasoline and paint—with surprisingly beneficial results. But in DC, lead is still damaging hundreds of children every year—and the results will be more dropouts and crime. By John Pekkanen.
Have More Fun Here are 50 activities that can put excitement in your life—from outdoor adventures to learning something new to doing good. Plus, what interesting Washingtonians do for fun.
How to Build a Better Burger We asked ten chefs to create recipes that go beyond ground chuck. And did they ever. By Ann Limpert.
Glass Struggle The cost of a glass of wine continues to soar. Here's how to get the best deals. By Don Rockwell.
Dining Out At 1789, a new, young chef makes changes while aiming to please regulars. Praline is a bistro find in Bethesda.
Best Bites Beach hot spot opens in DC . . . Move over, flavored oils; finishing salts are here . . . Restaurant hits and misses.
The Great Chocolate-Chip Cookie Tasting We tasted 101 chocolate-chip cookies—from bakeries, supermarkets, everywhere—to find the very best.
Great Finds Good buys for summer—from cool clothing to music gadgets. By Kim Forrest and Caleb Hannan.
Learning the Code Graduates of military academies learned tough lessons that changed their lives. By Alvin P. Sanoff.
Getting There The latest personal navigation devices mean never having to ask for directions. By Steve Eldridge.
2006 Guide to Home Remodeling Kitchens without walls, outdoor rooms, energy-efficient additions, and other trends. Plus—going green, remodeling for less, which projects pay off, deciding whether you need an architect, top remodelers, and more.
She Does It Her Way In the macho world of speculative homebuilding, this lady is a champ. By Annette Kornblum.
Luxury Homes John W. Marriott III buys in Potomac for $4.15 million. By Mary Clare Fleury.
Washingtonian Crossword Apostrophe attack. By Matt Gaffney.
Out of the Ashes A writer turns a sad situation, and her family's royal heritage, into a first novel. By Cory Ohlendorf.
Beach Fix Who would sit in traffic for six hours just for a couple of hours at the beach? By John Huebl.