This page describes the contents of an issue of Washingtonian magazine. Subscribers get exclusive early access through our print and digital editions. Most of our feature stories are later published online and linked below.
Buy a Single Issue
Subscribe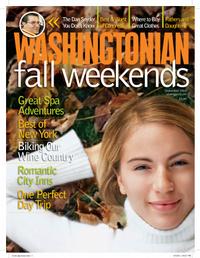 Capital Comment DC's big decision . . . Expletives in chief . . . Terrorism expert's favorites . . . So long to our favorite party girls . . . Prediction: Redskins will rock . . . Big spender Hillary . . . The Veep in the bookstore . . . Lerners vs. the Post.
Where & When Sheryl Crow at Nissan . . . Rousseau at the NGA . . . Daily Show's Jon Stewart at Merriweather Post . . . WNO premieres Sophie's Choice . . . My Fair Lady at Signature . . . Almodóvar at AFI . . . Book festival on the Mall.
Horn of Plenty Aaron Broadus and his spirited sound have deep local roots. By Chris Wilson.
Go See the Principal How smart kids think, what parents will do to get their children into a top high school, an insider's perspective on cheating, operating in a fishbowl, and more. Interview by Ken Adelman.
My Son the Mormon When he told me he wanted to become a Mormon at age 16, I had some questions. By Ann Cochran.
Heart to Heart Gladys Myers proves that talking can help heart patients a lot. By Cindy Rich.
Fathers and Daughters As a girl gets older, it can be harder to connect with Dad. Here's how Washington women relate to their fathers—and what they do to keep the bonds tight. By Brooke Lea Foster.
Best and Worst of Congress Capitol Hill staffers rate their bosses—who's naughty, who's nice, who's smart, who's not, and lots more.
42-Day Wonders In six weeks, baby chicks will be headed to area supermarkets. Raising chickens is big business—and a way of life. By Tom Horton with photographs by David Harp.
The Dan Snyder You Don't Know To disgruntled fans, the Redskins owner is a spoiled rich kid who treats the team like a toy—and a money machine. People close to him say it ain't so. By Harry Jaffe.
A Little Off the Sides In small towns, barbers still know a lot of secrets. Photographs by David Deal, text by Kim Forrest.
Fall Weekends Great spa adventures, romantic city inns, biking Virginia's wine country, the best of New York, one perfect day trip, and other autumn getaways. Edited by Sherri Dalphonse.
Where to Buy Great Clothes Washington once was known for being so conservative that it had almost no style. That's changed. Here are more than 100 of our favorite places for clothing, shoes, and accessories.
Razzle Dazzle Musical stars have to sing, dance, act—and make it look easy. Here are some of the best. By Leslie Milk.
Mr. Coffee William Gutierrez arrived from Nicaragua with $20 in his pocket. He's built Santa Lucia coffee into the area's high-end restaurant brand. By Robert Lalasz. Plus—a guide to good coffeehouses.
Dining Out The new Blue Duck Tavern dispenses with much of the fuss and flash of fine dining—without stinting on satisfaction. By Todd Kliman. Lowcountry flavor with a view at Indigo Landing. By Cynthia Hacinli.
The Great Red Hype? Hailed as one of the great vintages, the 2005 Bordeaux are triggering a pricing frenzy. Don't buy in. You can find great pleasure in other recent vintages. By Don Rockwell.
Best Bites Glorious cheese at Cowgirl Creamery. . . What restaurant cooks eat . . . Jeff and Barbara Black's fridge .
Benefits Chili and spices and other good times for good causes. By Maggie Wimsatt.
High Life At the upper end of the new-condo market, the question is "What bubble?" By Elizabeth Razzi.
Luxury Homes Discovery founder buys for $2.5 million, Jody Powell sells for $1.5 million. By Mary Clare Fleury.
Washingtonian Crossword News clues. By Matt Gaffney.
Raising the Bar Shelley Broderick is changing the face of the law. By Brooke Lea Foster.
The Language of Awwww The zoo's panda cub is nothing special to a Chinese-American, right? Are you kidding? By Chee-Ming Hung.