This page describes the contents of an issue of Washingtonian magazine. Subscribers get exclusive early access through our print and digital editions. Most of our feature stories are later published online and linked below.
Buy a Single Issue
Subscribe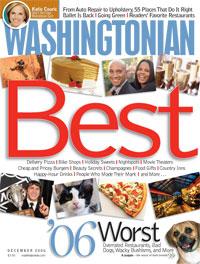 Capital Comment Election winners and losers . . . Want a BMW with that condo? . . . Feeding the President.
Where & When Ancient Bibles at the Sackler . . . The Light in the Piazza at the KenCen . . . Joyful holiday music.
Cokie's Kid After coming home, Rebecca Roberts found her voice. By Leslie Milk.
Great Finds It's the season for party dresses, one-of-a-kind jewelry, and spa specials.
Keeping the Faith What tragedy can teach us—and feeling the presence of God. Interview by Ken Adelman.
Gladwell's Brain The quirky author writes bestseller after bestseller, and he started here. By Chris Wilson.
Don't Be Fooled Advice from a veteran political reporter on how to be a smarter voter. By Jack W. Germond.
Elvis, JFK, and Barney Gift books that showcase famous faces, funny moments, and more. By William O'Sullivan.
We Knew Katie When Katie Couric's old friends and colleagues tell what's behind the big smile. By Nancy Doyle palmer.
Rock Artist Paul Wolff likes being a lawyer—and loves working with stone. By Harry Jaffe.
Ballet Is Back The Washington Ballet puts a year of troubles behind it as it brings back its Nutcracker. By Susan Baer.
New Hearts, New Lives Could a hardworking but poor mother save the lives of her two sons? By Brooke Lea foster.
Best of Washington Our favorite delivery pizza, people, nightspots, burgers, country inns, and more. Plus the year's worsts.
Auto Repair to Upholstery—55 Places That Do It Right From 30 years of Washington Consumers' Checkbook, old-time businesses that are as good as ever.
Kings of the Sea They're Dover sole and turbot. Here's how and where to enjoy them at their best. By Robert Shoffner.
Readers' Favorite Restaurants L'Auberge Chez François again takes top honors, but this year's list pulses with new energy. By John White.
Best Bites Postmodern pizza . . . A hot and healthy snack . . . The host with the most . . . Remembering Johnny Apple.
"Mommy, Pass the Foie Gras" What it's like to have dinner with pint-size foodies. By Cynthia Hacinli.
Dining Out Low-profile chef Barry Koslow is making Georgetown's Mendocino Grille a serious place to dine. By Todd Kliman. An Italian duet—Famoso Restaurant and M Cafe opens in Chevy Chase. By Cynthia Hacinli.
Spirit of America A new generation discovers the pleasures of bourbon. By Don Rockwell.
Escape From Traffic Hell Commuter trains are packing them in. Can they help stop sprawl and clear the roads? By Alan Wirzbicki.
Favorite Slopes Doreen Gentzler likes Wintergreen. Here are local ski resorts Washingtonians love. By Matthew Graham.
Benefits Greens and galas and other good times for good causes. By Maggie Wimsatt.
Peace at Home Groups that work to reduce gang violence, teach kids to resolve conflicts, and build bridges. By Ellen Ryan.
Going Green Personal steps toward energy independence and a better environment. By Peter and Christopher Behr.
Luxury Homes Pundit Tucker Carlson buys for $3.8 million. TV anchor Tracey Neale sells. By Mary Clare Fleury.
Washingtonian Crossword Municipal Bonds. By Matt Gaffney.
Fab Four Fashion A passion for the Beatles and a love of clothing come together in an unusual business. By Kerry Keene.
Pentagon Confidential As a DoD intern, I had an impressive title—and some surprising responsibilities. By John H. Kester.