This page describes the contents of an issue of Washingtonian magazine. Subscribers get exclusive early access through our print and digital editions. Most of our feature stories are later published online and linked below.
Buy a Single Issue
Subscribe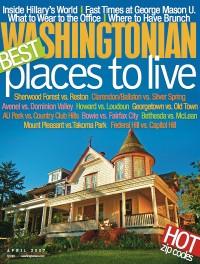 Capital Comment Pols bet the funniest things . . . Michael Jordan's son . . . Sally Quinn's religion . . . Power perfume.
Where & When Washington Color School . . . Saving Aimee at Signature . . . Christina Aguilera at Verizon.
Act Two Rick Foucheux nearly gave up acting. Now he takes center stage. By Chad Lorenz.
Living With Einstein What makes a genius, and why great leaders are so rare. Interview by Ken Adelman.
House of Magic There's no telling what tricks Savino Recine is cooking up. By Sherri Dalphonse.
Stickup at the Smoothie King Five good students and a robbery in Bethesda. Here's how it happened. By Alicia c. Shepard.
Growing Up Marriott Inside the family behind one of Washington's great businesses. J. Willard and his son Bill turned a root-beer stand into an empire. Now will Bill's kids take over the company? By Cindy Rich.
Gorillas in Our Midst Tragedy struck twice at the National Zoo last year, leaving the gorillas without a leader. Who could be the new boss? By Kim Isaac Eisler.
Fast Times at George Mason U. It's now Virginia's biggest university—with ambitions to be the best. Here's a look at a college in a hurry. By Graham Meyer.
Inside Hillary's World From the crack of dawn when the hairstylist arrives to late at night when she settles in with a briefing book, Hillary Rodham Clinton's Washington life is perpetual motion. By Susan baer.
Manhunt Nationals scouts are scouring the globe looking for talent. They got Smiley Gonzalez, a 17-year-old phenom from the Dominican Republic. And they're not done. By Tim Wendel.
The Power and the Glory Pipe organs are majestic instruments that fill huge spaces with heavenly sounds. They're also complex, infernal contraptions—and Washington has some great ones. By Graham Meyer.
Best Places to Live How 20 great neighborhoods stack up against each other. Plus, 100 golden Zip codes.
What to Wear to the Office Seven women who always look professional talk about dressing for success. By Alycia Kilpatrick.
Benefits Food, fashion, and other good times for good causes. By Maggie Wimsatt.
Where to Have Brunch The search for memorable weekend dining turned up unusual fare that goes far beyond waffles.
Wine Advocates Cultivate a relationship with a "retail sommelier" to find the right bottles. By Don Rockwell.
Dining Out BLT Steak calls itself a new kind of steakhouse. Bastille brings French charm to Old Town.
Best Bites A first look at D'Acqua . . . Best matzo in town . . . Belgian bistro . . . Places for a big night out.
Luxury Homes Joe Lockhart makes $3-million deal in Kalorama. By Mary Clare Fleury.
Tee It Up Want to walk out your door and play a Jack Nicklaus course? By Katie Bindley.
Washingtonian Crossword Born capitalists. By Matt Gaffney.
The Showman A nightlife impresario embarks on his latest act. By Emilie Karrick Surrusco.
Car-Wash Crush I love my husband. Then I went to get my car cleaned—and saw the man. By Linda Greider.