This page describes the contents of an issue of Washingtonian magazine. Subscribers get exclusive early access through our print and digital editions. Most of our feature stories are later published online and linked below.
Buy a Single Issue
Subscribe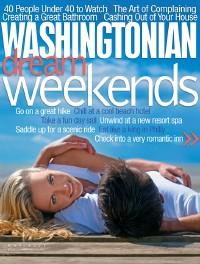 Capital Comment DC's biggest spenders . . . How to talk to the queen . . . Shadow government at Akin Gump . . . Playing Tim Russert bingo . . . Washington's billionaires . . . How Steve Case got his groove back.
Where & When Great Britons at the Portrait Gallery . . . Celebrating Paul Simon . . . Theodore Bikel plays Shylock . . . Step Afrika! at Atlas . . . Alison Krauss with Tony Rice at DAR Constitution Hall.
On the Case She spends her days absorbed by crime—so others sleep easier. By Lydia Strohl.
Big Man on Campus What GW's president thinks of Georgetown, the problem with college rankings, how students have changed, and more. Interview by Larry Van Dyne.
The Fun of Science How the universe works, life-changing discoveries, and unsolved mysteries. By Steve Olson.
Giving Hope Washington immigrants send millions of dollars to loved ones in their home countries. A little cash goes a long way. By Lori Robertson.
Double Takes Moments of humor, confrontation, reflection, and victory from a year in politics.
Eye on the Heavens The Hubble Space Telescope has probed deep into the universe, far back in time and space. One man has guided it through its ups and downs—and has the white hair to prove it. By Kathy Sawyer.
Deadly Divas Women on a killing spree: Writers find that Washington loves a good mystery. By Karen Kullgren.
Cashing Out of Your House It's tempting, given the high property values here: If you sold your Washington home, what kind of dream house could you buy outside the city? By Cathy Alter.
40 People Under 40 to Watch Here are young Washingtonians on the rise in politics, arts, sports, media, medicine, and business. You may be hearing a lot more about them.
Dream Weekends Great day and weekend trips, from beach inns and mountain hikes to good food and fun on the Eastern Shore. Plus—where to rekindle romance, why it's Philly time, and what's new at area resorts.
Great Finds Mothers and daughters who share a love of fashion—and shopping. By Mary Clare Fleury.
Big But Not Easy A big-screen TV offers lifelike images—and a dizzying array of choices to make. By Kerry A. White.
The Art of Complaining When a company does you wrong, here's how to get results. By Lisa Shroder.
Dining Out Michel Richard's sophisticated new bistro offers artistry and affordability. By Todd Kliman. In Old Town Alexandria, Rustico gets some refinements. By Cynthia Hacinli.
Best Bites New chef at Morrison-Clark Inn . . . Best street burrito . . . Monumental chocolates . . . Alfresco eats.
Waiting for Godello The distinctive white wine from Galicia is poised for a breakthrough. By Don Rockwell.
Benefits Fun at the zoo and other good times for good causes. By Maggie Wimsatt.
Creating a Great Bathroom From air tubs to steam showers to metal sinks, here is the latest in bathroom design—including green ideas that save water and energy and area designers and showrooms that can build your dream bath.
Green Houses Here are tips on how to make your home more ecofriendly—and save money. By Michael Tardif.
Luxury Homes GW's Steve Trachtenberg buys for $2.4 million in Kalorama. By Mary Clare Fleury.
Washingtonian Crossword Embassy Row. By Matt Gaffney.
Sowing a Legacy She decided to teach children about saving the planet—and found new life. By Mary Clare Fleury.
Different Strokes My mother's paintings are in museums. I copy her mentor's style. Will she understand? By Page Evans.