This page describes the contents of an issue of Washingtonian magazine. Subscribers get exclusive early access through our print and digital editions. Most of our feature stories are later published online and linked below.
Buy a Single Issue
Subscribe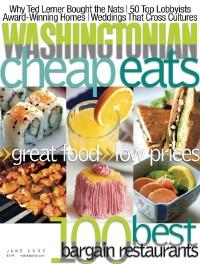 Capital Comment Shaving famous heads . . . Sex-scandal roundup . . . Where visiting celebrities sleep . . . Power poker players . . . Clerking for the Supremes.
Where & When Portuguese treasures at the Sackler . . . Cirque du Soleil at Verizon Center . . . SilverDocs Festival at AFI . . . Denyce Graves at Wolf Trap.
Going With the Grain He left a good career to make furniture—and build a different life. By Gretchen Cook.
Musical Chairs The Washington and Baltimore orchestras have new conductors. They might just as well have hired each other's. By Stephen Wigler.
Feast for the Senses One Woodley Park couple likes to treat friends to dinner—and a show. By Mary Clare Fleury.
Looking for a Cure What's wrong with our healthcare system, why hospitals can be dangerous, and the mixed blessings of new technology. Interview by John Pekkanen.
Exposed A year's worth of faces reflecting power, sadness, and joy from the White House News Photographers competition.
Why Ted Lerner Bought the Nats The dealmaker and family man has realized a dream: He owns Washington's team. Here's how he got where he is. By Harry Jaffe.
This Sculpture: $1 Million. Buyer: You. Each new federal building gets taxpayer-funded artwork. Not everyone agrees on what should be bought. By Kimberly Palmer.
Treasures of the Bay William Warner's bestselling book has endured even as the colorful life he chronicled has changed. By Tom Horton.
50 Top Lobbyists Their weapons are now BlackBerries and cell phones. But connections, savvy, and fundraising clout are still the keys to their influence. By Kim Isaac Eisler.
Cheap Eats Great food, low prices—and increasingly nice settings. Here are the 100 best bargains among all the restaurants in the District, Maryland, and Virginia.By Todd Kliman, Cynthia Hacinli, Ann Limpert, Don Rockwell, and Michele Kayal.
Breaking the Code A devout Christian, Francis Collins helped discover the genetic road map for human life. Can he really see God at work in DNA? By Chris Wilson.
Looking for Golf Heaven If you could play anywhere, where would it be? Here are the courses that Tony Kornheiser and others say are their favorites. By Alice Shapin.
Benefits Bark Ball, barbecue, and other good times for good causes. By Maggie Wimsatt.
"We're a Geeky Bunch" It's Academic is the world's longest-running TV game show. For Washington high-school students, it's more than a game. By Michael Patrick Carney.
Golden Girl In a town where access is everything, Nancy Reynolds parlayed charm and connections into opening lots of doors. By Leslie Milk.
Here Comes the Bride How to plan a wedding that crosses cultures, five ideas for showers and bachelorette parties, how to keep wedding guests happy—plus, when should you set a date? Edited by Cindy Rich.
Great Finds Good shopping and dining by the water in Annapolis. By McLean Robbins.
Winchester's Secret When the Corcoran Gallery needed to protect its most valuable art, it enlisted the help of a Virginia high school. By Maggie Wolff Peterson.
Mind the Neighbors A Chevy Chase family gets more space for four growing children—and takes pains not to stand out. By Michael Tardif.
Living Spaces Winners of this year's Washingtonian Residential Design Awards prove that good design doesn't have to be expensive or traditional. By Ellen Ryan.
Luxury Homes Chef José Andrés and journalist Michael Isikoff strike a deal in Chevy Chase. Developer Doug Jemal sells for $1.1 million in Bethesda. By Mary Clare Fleury.
Washingtonian Crossword Span-ish language. By Matt Gaffney.
Making Democracy Work Her job is to recruit talent to work in government. It's a big challenge. By Garrett M. Graff.
Second Wind I'm not a jock. So what am I doing racing down a bike trail?By Meg Hanna House.