This page describes the contents of an issue of Washingtonian magazine. Subscribers get exclusive early access through our print and digital editions. Most of our feature stories are later published online and linked below.
Buy a Single Issue
Subscribe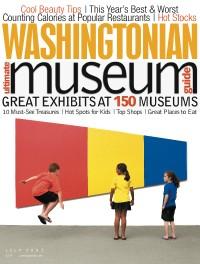 Capital Comment Comparing the two Monicas . . . Big books by DC insiders . . . Don Graham's new digs . . . Are lawyers overpaid? . . . Priciest houses on the market.
Editor's Notes The Washingtonian gets a new publisher.
Where & When Harry Benson photos at the Portrait Gallery . . . Aretha Franklin at Wolf Trap . . . Folklife Festival on the Mall . . . '80s films at AFI . . . A bang-up Fourth!
A Place to Think Where an ambassador's wife relaxes. By Mary Clare Fleury.
Body and Soul A medical-school teacher tells a new generation of physicians they should learn to treat the spiritual as well as the physical. Interview by Joanne Kenen.
The Best Summer Book Ever Reading you can't put down—mysteries, adventures, and novels about families, friendship, and a summertime fling. By William O'Sullivan.
She's the Chief Bowie has a brand-new police force, and the cop who heads it is tough, capable, and brave. She's come a long way to get there. By Marita Golden.
Bush May Be Stubborn But He's Not Tough Here's how the President, with good intentions and bad ideas, is making a mess of national security. By John G. Kester.
Child's Play Kids having fun, learning, competing . . . and just being kids. Top photos from the White House News Photographers Association.
Bird Man of the Palisades Washington is a bird watcher's paradise, with hundreds of species. Renowned illustrator Jonathan Alderfer wants to see them all. By Drew Bratcher.
Take the Money and Run Presidential candidates are passing the hat in Georgetown, Great Falls, McLean, and other VIP locales. Who's ponying up? By Drew Lindsay.
Living History What it's like to be a Roosevelt, using Jefferson's name to pick up women, and other stories of famous ancestors. By Robin Gerber; photographs by Gary Landsman.
2007's Best & Worst Readers like DC mayor Adrian Fenty and brunch at Georgia Brown's. They'd like to muzzle Ann Coulter. Here are this year's winners and losers.
Ultimate Museum Guide Why Washington can claim to be the museum capital of the world. Here are great exhibits at 150 museums, 10 must-see treasures, hot spots for kids, top shops, best places to eat, and much more.
The Hunt for Golden Eggs Young women donate their eggs to help couples who are trying to have a baby. They're also paid well. By Brooke Lea Foster.
Not Trying to Be Tiger Neil Fleitell left a good job to follow his dream—to teach people how to play golf. But first he has to pass a tough test. By Mark Nelson.
Counting Calories at Popular Restaurants A meal may look like it's good for you, but we had a lab count the actual calories. By Todd Kliman, Ann Limpert, and Sara Levine.
Dining Out At Café du Parc the cooking is robust, the prices reasonable. So what's not to like? By Todd Kliman. In Rockville, a tempting taste of Turkey. By Cynthia Hacinli.
Pretty in Pink The new generation of rosés will banish memories of those sweet blush wines—and keep you cool and satisfied all summer. By Dave McIntyre.
Best Bites Summer's best ice cream, gelato, frozen custard . . . Classic tapas in Bethesda . . . Best bagels by mail . . . Authentic Italian grocers, crab cakes, and more.
Deals Half-price facials, bargain makeup secrets, and more. By Sara Levine and Leslie Milk.
Cool Beauty Tips Summer haircare and makeup, the latest on hair removal and cellulite treatments, easy tans, swimsuits that hide flaws, and more. Edited by Sherri Dalphonse.
Hot Stocks Eight local companies to watch. Plus—Business Leader of the Year, and experts pick good local stocks for 2007. By Wayne F. Nelson and Ellen S. McLellan.
Renovations From construction nightmare to dream house by a lake. By Michael Tardif.
Luxury Homes Ex–Freddie Mac exec, former Redskin make big deals. By Mary Clare Fleury.
Fresh Breeze In prime vacation spots at the beach and on the Eastern Shore, a big inventory of waterfront homes is cooling off a once-hot market. By Katie Bindley.
Washingtonian Crossword Scrambling around town. By Matt Gaffney.
Not Black and White Video art offers a vivid look at race relations. By Mary Clare Fleury.
What Matters Most In TV news I didn't flinch. Then my son was born. By Philip Lerman.