This page describes the contents of an issue of Washingtonian magazine. Subscribers get exclusive early access through our print and digital editions. Most of our feature stories are later published online and linked below.
Buy a Single Issue
Subscribe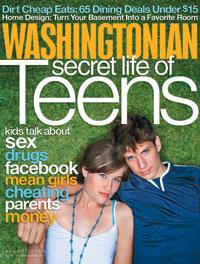 Capital Comment Cute candidate lookalikes . . . Dan Snyder's seven sins . . . Secret Service code names . . . Summer hires and Champagne . . . Adios to Post Radio?
Where & When American Impressionists at the Phillips . . . Beyoncé at Verizon . . . Phantom at the KenCen . . . Madrid in movies at AFI . . . Festivals and fairs.
Inside Dish In more than 20 years at the Occidental, waitress Lindly Haunani has seen it all. By Kara Baskin.
They Call Him Dr. Death The FBI agent who investigated Chandra Levy's killing talks about hunting down killers, why torture doesn't work, and more. Interview by Harry Jaffe.
Welcome to Clintonland The first presidential library was a simple place for personal papers. Now the libraries are more like theme parks. By Victor Gold.
Time for Less Talk, More Action Last August we wrote about how lead poisons too many of DC's children. One year later, are they being protected? By John Pekkanen.
Making of a Winner How Kate Ziegler teamed up with a computer guy who moonlights as a swim coach to become a good bet for Olympic gold. By Drew Lindsay.
Mystery Man David Baldacci's thrillers are bestsellers, but there's a lot that people don't know about him, beginning with his days selling vacuum cleaners. By Leslie Milk.
Into the Sunset We all face the end question: Will we be laid to rest in a cemetery, join the growing numbers being cremated, or make other arrangements? Here's what Jim Vance, Diane Rehm, and others have decided. By Larry Van Dyne.
City Game Nikki Teasley and Monique Currie play a DC style of basketball learned on the city's blacktops. By Drew Bratcher.
Gas, Grub & Gossip Country stores are good places to get what you need and to see everything from friendly faces to ghosts. Photographs by David Deal; text by Drew Bratcher.
Secret Life of Teens Kids from nearly 50 schools told us what they won't tell you. Plus—why kids are addicted to Facebook, some "most likely to's" from area high schools, and more. By Cindy Rich with Caleb Hannan, Sara Levine, and Denise Kersten Wills.
Fresh Start Is work a grind? Want to do something you're passionate about? Time in the classroom might change your career—and your life. By Ellen Ryan.
Great Finds Stylish maternity wear and gifts. By Mary Clare Fleury and Nadya Sagner.
Dirt Cheap Eats Love good food but don't have a lot to spend? Here are 65 dining deals under $15. By Ann Limpert, Todd Kliman, Cynthia Hacinli, Sara Levine, and Erin Zimmer.
Dining Out In DC, the second incarnation of Oyamel shimmers with bigger, bolder flavors. By Todd Kliman. The Majestic gets a smart makeover in Old Town. By Cynthia Hacinli.
Best Bites Hot sauces of summer . . . Checking out Firefly . . . Cook a whole pig! . . . Inside the fridge of a bachelor chef . . . Steamed crabs, kid-friendly eats, and more.
Better Off Red In the dog days of summer, white wines aren't always best. You might need something earthier to go with the steaks and burgers on the grill. By Dave McIntyre.
Deals Great travel bargains are a quick drive away. By Sherri Dalphonse.
Turn Your Basement Into a Favorite Room Looking for more space—and fun—in your home? Go downstairs. Here's how to create a family room, wine cellar, media room, home gym, or other place you'll enjoy. By Ann Cochran and Mary Clare Fleury.
Razzle Dazzle A makeover gives a 1950s split-level new charm. By Michael Tardif.
Walking Distance New luxury condos—whether in DC or suburban town centers—offer everything from garden rooftops to nearby bistros and nightlife. By Billy Fox.
Luxury Homes Brett Haber sells for $2.5 million in Georgetown. By Mary Clare Fleury.
Puppy Love How crazy are Washingtonians about their pets? By Sherri Dalphonse.
Washingtonian Crossword Quadrant questions. By Matt Gaffney.
Young Wizard Is Andrew Bowling the next J.K. Rowling? By Drew Bratcher.
Mom Rocks Rediscovering the fun of rock 'n' roll. By Deborah Lewis.