This page describes the contents of an issue of Washingtonian magazine. Subscribers get exclusive early access through our print and digital editions. Most of our feature stories are later published online and linked below.
Buy a Single Issue
Subscribe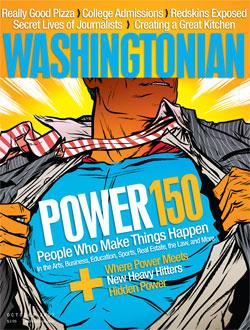 Subscribe to The Washingtonian today!
October 2007 (Volume 43, Number 1)
Capital Comment Big-name Halloween costumes . . . TV stars in the White House? . . . After a law firm's windfall . . . Len Downie makes things up?
Where & When Shakespeare's Sidney Harman Hall debuts . . . Jennifer Lopez, Marc Anthony at the Verizon Center. . . Annie Leibovitz at the Corcoran.
Getting In The heads of admissions at Georgetown and UVa talk about SATs, rankings, and the competition to get accepted at top schools. Interview by Alvin P. Sanoff.
Roads to the White House Here are books that go behind the scenes to tell about the victories and defeats that still hold lessons for today. By David Jackson.
Where the Green Grass Grows Seagrasses once covered the floor of the Chesapeake Bay. Now scientists are restoring these emerald meadows, hoping to make the bay far healthier and more productive. By Tom Horton.
Redskins Exposed Hidden behind helmets and hype are men. Big men. With big muscles. And tattoos. Photographs by Scott Robinson; text by Drew Bratcher.
Journalists' Secret Lives We asked about everything from their morning rituals to their secret passions. By Patrick W. Gavin and Jonathan E. Kaplan.
Love in Two Worlds When people of different cultures or faiths marry, there are lots of challenges—from how the kids are raised to what to have for dinner. By Brooke Lea Foster.
A Doctor in the Kitchen? Hitting midlife, he went off to cooking school. By Ellen Ryan.
The Power 150 Here are Washington's most influential people in business, culture, real estate, education, law, and more. Plus—Washington's hidden power, future stars, and where powerful people meet.
She's Got Style Ten well-dressed women share their fashion advice, their places to shop—and their fashion disasters. By Leslie Milk.
Cheap Dates Good dining deals—from steak specials to all-night happy hours—plus $10 theater tickets and other great nights out. By Sara Levine and Leslie Milk.
Benefits Tastings, trivia, and other good times for good causes. By Maggie Wimsatt.
Finding Family Stories When Wyoming native Lynne Cheney started looking into her family history, she found a lot she didn't know. By Leslie Milk.
Queen of the Night The Casino Royal was the place to see Mae West, Bob Hope, and Ella Fitzgerald. Then Washington changed. By Kelly DiNardo.
Really Good Pizza Thanks to an explosion of boutique places, 2 Amys and Pizzeria Paradiso are no longer the last word in tasty pizza. By Todd Kliman.
Dining Out At Cynthia's, Cindy and Brian Bennington are turning out rewarding dishes in a Severna Park strip mall. By Todd Kliman. Plus—Rock Creek at Mazza stints on calories but not flavor. By Cynthia Hacinli.
A Vine Grows in the East The best wines from the East Coast are taking their place among the world's elite. So why are they so hard to find here? By Dave McIntyre.
Best Bites First look at Locanda on Capitol Hill . . . Haute French fries . . . Update on cheese and crackers . . . Terrific kebabs, zippy jerk chicken, and more.
Creating a Great Kitchen Beautiful makeovers, quick fixes, avoiding renovation regrets, what's new in appliances, how chefs cook at home, and more.
Luxury Homes Discovery's John Hendricks sells. By Mary Clare Fleury.
Birds of a Feather Not going generic when looking for assisted living. By Billy Fox.
See Spot Run Some dogs need more than a daily walk. By Cynthia Allen.
Washingtonian Crossword The town is changing. By Matt Gaffney.
Word Warrior Natalie Illum uses fiery poetry to inspire women. By Andrea C. Poe.
My Uncle and Me He's always been there for us. How do you thank someone like that? By Colleen Sheehy Orme.