This page describes the contents of an issue of Washingtonian magazine. Subscribers get exclusive early access through our print and digital editions. Most of our feature stories are later published online and linked below.
Buy a Single Issue
Subscribe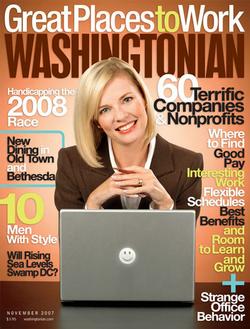 Meeting People Who Matter A gathering to celebrate the Power 150.
Capital Comment Fitting sentences for Capitol offenders . . . Tony Snow's talk isn't cheap . . . Blogs are out; vlogs are in . . . Spotting the dummies at Madame Tussauds.
Where & When "America by Air" debuts at Air and Space . . . Turner landscapes at the NGA . . . The Police—then the Boss—at Verizon . . . Edward II at Harman Hall.
Skulls in His Closet Medical curiosities fill a good doctor's home. By Drew Bratcher.
Powerful Minds The role of narcissism in politics, how childhood events affect a leader's skills, discerning who a candidate really is, and more. Interview by Ken Adelman.
Pulling the Strings The four owners of the Redskins have been colorful—showman, superlawyer, squire, marketing whiz. By Victor Gold.
And They're Off! A top political reporter handicaps the race for the White House and lays out the odds on who will make it to the finish line. By Roger Simon.
Secrets of Success Five business leaders who made all the right moves. By Leslie Milk.
Big Shots Scenes from three decades of photographing presidents and pretenders, husbands and wives, big events and private moments. Photographs by Diana Walker.
Miracle Girl The surgery that separated two twin sisters left one of them partially paralyzed. No one knew if she'd walk. Now she's defying the odds. By Cindy Rich.
The Wall Twenty-five years ago, the Vietnam Veterans Memorial divided Washington. Today it's an emotional touchstone. By Denise Kersten Wills.
Warren Buffett's Washington The Nebraska billionaire's capital connections.
Will Rising Sea Level Swamp DC? As the earth warms and glaciers melt, sea level is rising. What happens when the next big hurricane hits Washington? By Steve Olson.
Great Places to Work Looking for a better job? Here are 60 employers that offer generous pay and benefits, interesting work, flexible schedules, friendly offices, and more. By Sherri Dalphonse, Mary Clare Fleury, Lisa Daniel, Ellen McLellan, and Wayne Nelson.
He's Got Style Clinton Portis and nine other men who know what looks good on them talk about where they shop, labels they love, and more. By Mary Clare Fleury.
"I Ain't Afraid of No Ghost" Suite 870 of the Omni Shoreham is said to be haunted. What's it like to spend the night? By Eric Nuzum.
Dining Out Chef Anthony Chittum has brought a spark to Vermilion in Old Town. Plus—fresh and fiery Thai in Bethesda and an Eden Center hot spot.
Best Bites Fried delights. . .Recreating Duke's pickles . . . Chefs' Thanksgiving tricks.
Beaujolais Every Day? If you think of Beaujolais only once a year, you're missing out on the year-round pleasure offered by these food-friendly wines. By Dave McIntyre.
Read My Wrist The watches Washingtonians wear can say a lot about them. Plus—baubles get bigger and other jewelry trends. By Leslie Milk and Sara Levine.
Building Wars Area private schools are putting up athletic centers, science labs, and student lounges that rival what top colleges offer. By Denise Kersten Wills.
Benefits Food, fun, festivals, and other good times for good causes. By Maggie Wimsatt.
Born Again A century-old farmhouse gets new life. By Michael Tardif.
Luxury Homes Big deals by football star LaMont Jordan, sportscaster Brett Haber, Archbishop Donald Wuerl, and Republican insider Ken Mehlman. By Mary Clare Fleury.
Welcome Home A doorman and room service for a condo? Developers are courting buyers with the amenities of a four-star hotel. By Mary Clare Fleury.
Peaceful End A dog owner says goodbye to a beloved pet. By Gretchen Cook.
Washingtonian Crossword By the numbers. By Matt Gaffney.
Clowning Around They find joy in making sick children smile. By Nancy Doyle Palmer.
Running for Good Marathons are a way to help others, too. By Henry G. Brinton.