This page describes the contents of an issue of Washingtonian magazine. Subscribers get exclusive early access through our print and digital editions. Most of our feature stories are later published online and linked below.
Buy a Single Issue
Subscribe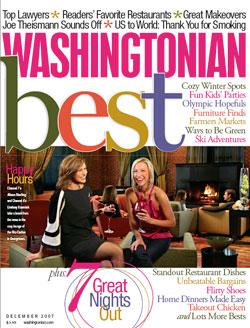 Subscribe to the Washingtonian today!
Capital Comment Annual report card: Who passes, who flunks? . . . Talking hoops with JT III . . . What Dan Snyder has to do to win . . . Friending Don Graham.
Where & When My Fair Lady at the KenCen . . . Two good Nutcrackers . . . Animals at Natural History . . . Jewish Film Festival . . . Holiday music and sing-alongs.
"All Our Treasures" This drawing room is a special place filled with personal mementos and antiquities. By Mary Clare Fleury.
Smile, You're on YouTube How social networks, bloggers, and "macaca moments" are changing politics. By Garrett M. Graff.
Joe Theismann Sounds Off For most of his life, the Redskins legend has been in the spotlight. Now he's been sacked. Interview by Harry Jaffe.
Good Gift Books The Chesapeake's beauty, Arlington's dignity, the excitement of space, and intimate Kennedy photos. By William O'Sullivan.

Living the American Dream Many Indian-Americans came here with a few dollars and big hopes. Now some are living large and making their presence felt in politics, business, and the arts. But they never forget their roots. By Madhu Jain.

Top Lawyers Washington lawyers may tend to dress alike, but they're not all the same when dealing with problems. Here are 30 of the very best—plus 800 more who are close behind. Hang on to the list. By Kim Isaac Eisler.
Thank You for Smoking While Washington is encouraging Americans to quit smoking, it has been forcing poorer nations to accept more US cigarettes—and helping cause a worldwide epidemic of health-related problems. By John Pekkanen.
Best of Washington We tested, tasted, and toured for this year's favorite things: the coziest spot to curl up by a fire, the most exciting ski adventures, the ultimate brownie, a kids' band that rocks, and lots more. Plus the year's clunkers. Check out the best deals, the best links, and the best fun stuff for kids.
Think Small Want to make a year-end donation that'll make a difference? These local charities may not be big, but they get big results. By Ellen Ryan.
Readers' Favorite Restaurants Their love for L'Auberge Chez François isn't flagging, but readers also show affection for exciting newcomers. By Ann Limpert and John White.
Dining Out The Liberty Tavern has a winning model for neighborhood dining in Clarendon. Plus—a wine bar/bistro in McLean, comfort food to go in Alexandria, and dining on a shoestring in Georgetown. By Todd Kliman, Cynthia Hacinli, and Ann Limpert.
Best Bites Alison Swope on K . . . Ethnic holiday treats . . . How fish are "filed" at the Inn at Little Washington . . . British snacks . . . Fine dining for less than three digits.
Bursting Bubbles Champagne lovers may scoff, but American sparkling wines are coming into their own. Vive la différence. By Dave McIntyre.
Benefits Good times for good causes this month. By Maggie Wimsatt.
Season's Savings Add some cheer to winter with one of these getaways—from a spa value at the beach to a bargain hotel in New York. By Alice Shapin and Sherri Dalphonse.
"I Need a Makeover" Tired of your hair? Your clothing? Ten women and one man got some expert advice—and great makeovers. Plus—improve your skin in one hour.

Luxury Homes Pundits on the move—political analyst Michael Barone and New Yorker writer Steve Coll make deals.
Hello, Kitty Who says cats can't play fetch? By Drew Bratcher.
Washingtonian Crossword Christmas in Washington. By Matt Gaffney.
If This Coat Could Talk Peter Earnest's old topcoat has seen him through winters in Eastern Europe and meetings with secret agents. By Mary Clare Fleury.
You Want to Be a Spy? He applied to the CIA and got an offer. That was the easy part.