This page describes the contents of an issue of Washingtonian magazine. Subscribers get exclusive early access through our print and digital editions. Most of our feature stories are later published online and linked below.
Buy a Single Issue
Subscribe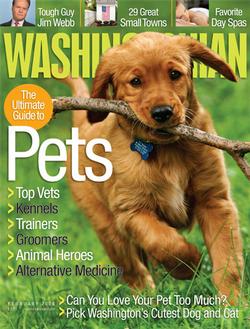 Volume 43, Number 5
Cover Story
ultimate guide to pets

How to care for your dog or cat: Here are 250 top veterinarians, alternative-medicine experts, kennels, dog walkers, groomers, and more.
Features
After a year in the Senate, the maverick former Marine has turned out to be more of a savvy operator than expected. By Paul West
Our nearly 200 embassies pump up the local economy and add lots of flavor to the city. China will soon open a big one. By Larry Van Dyne
Taking knives, brushes, and paints boldly in hand to restore a masterpiece. By Harry Jaffe
Pretty country spots, cool mountain retreats, waterfront treasures, lively college towns, and low-cost places on the rise.