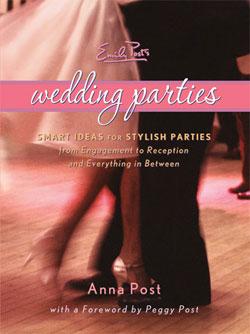 Thursday, January 10: Hitched Sample Sale
Dive into a world of designer bridalwear (Oscar de la Renta, Lela Rose, Suzanne Ermann, Kenneth Pool, Mariana Hardwick, and more) for not-so-designer prices at the bridal boutique Hitched (1523 Wisconsin Ave., NW; 202-333-6162). Markdowns on select gowns, veils, jewelry, bridesmaid dresses, and shoes will reach 50 percent. The sale lasts all month, but Thursday is the night to go: no appointment necessary, and you'll get first pick. 5 to 8 PM. (To go another day, call 202-333-6162 for an appointment.)
Saturday, January 12: Book Signing With Anna Post
So you're getting married and (let's be real here) you don't know the first thing about wedding planning. Head to the Harriet Kassman Bridal Salon in Mazza Gallerie (5300 Wisconsin Ave., NW; 202-363-1870) to pick up Anna Post's new book, Emily Post's Wedding Parties ($22.95), a today's-trends-and-traditional-etiquette guide for brides, grooms, best men, and anyone else with a role in the big event. I haven't seen a copy yet, but knowing the Post legacy—I swear, everyone in that family has been an etiquette columnist at some point—it will teem with useful info. After Anna signs your book, you can stick around to browse gowns at the salon and snack on samples from Just Cakes in Bethesda. If possible, RSVP to harrietkassman@thepattongroupinc.com so the salon has enough books in stock. 2 to 4 PM.
Know of an upcoming bridal event? E-mail mconrad@washingtonian.com.
To read the latest Bridal Party blog posts, click here.