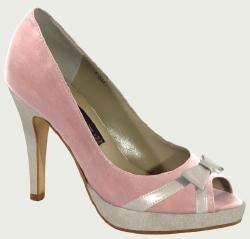 I always figured that, when the time came, I would use Payless's dyeable line to match my bridesmaids' shoes to their dresses. A friend has since banned me from bargain shoes (he had to rescue me in his Jeep one too many times when my $12 heels were killing me), but, as of right now, my future bridesmaid plan is back in business: Steve Madden has introduced a design-your-own-shoe line.
The DYO selection doesn't market itself as bridal, but with colors like salmon and cream, let's just say . . . the shoe fits. Choose the shape, then pick from dozens of shades (including, in some styles, stripes and gingham) for the body, heel, sole, and any accents, like bows. At $89.95 and up, it's not quite Payless (and no BoGo), but the plus side: It's easy to design something your bridesmaids will wear again.
If you're going less traditional (hey, sneaks are always an option in my book), Converse, Vans, and Nike also offer design-your-own lines.

Have other suggestions for where to get great wedding day shoes? Leave them in the comments section.
To read the latest Bridal Party blog posts, click here.