So you've been thinking about it a lot, and it's finally time to pop the question: Will you . . . be my bridesmaid? If you really want to be en vogue about it, stamp, seal, and send one of these just-launched card designs.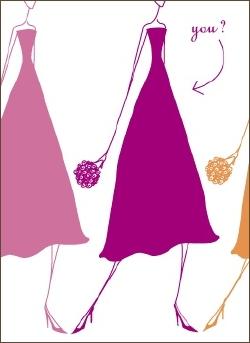 Arlington card and stationery company Amy Smyth Made It introduced two bridesmaid cards this month. Smyth, a former illustrator, designs and draws everything she sells.
The card shown here (the inside reads "Will you be my bridesmaid?") is available online; for the option not pictured (a cute "I'm getting married" to-do list front with the same question inside), head either to Smyth's site or to Pulp (1803 14th St., NW; 202-462-7857). Cards, $3 each, are sold individually, but you can e-mail Smyth (amysmyth@amysmythmadeit.com) to ask about ordering them in a bundle.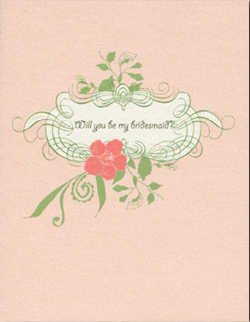 Celeb favorite Jenny Sweeney Designs just added a new batch of cards to its bridal line, including this floral number (complete with sparkly envelope) and similar "Will you be my maid of honor?" and "Will you be my flower girl?" designs.
Jenny's cards are handmade and also hand-glittered by moms in the Chicago suburb where the company is based. No Washington stores sell these cards yet, so you'll have to order online. At $5.90 a pop, though, you better be sure your bridesmaids are going to say yes.
Sorry, ladies—no luck finding "Thank you for asking me to be your bridesmaid" cards. We'll keep looking.
To read the latest Bridal Party blog posts, click here.