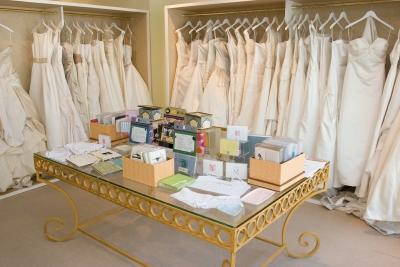 What are you doing for Valentine's Day? I'm psyched to be spending mine with Hitched bridal salon owners Julia Lichtman Kepniss and Carin Rosenberg Levine. They're coming to The Washingtonian to answer your questions about bridal fashion in a live online wedding chat. What to wear may be a more apt title, considering the beautiful selection of dresses these ladies keep in their Georgetown store. But they can also tell you what fads are, well, over.
Carin and Julia, who met as roommates in New York City after college, had a vision for Hitched: a bridal store that would be trendy and friendly. They already had the dress sense (each searched long and hard for her own wedding gown) and store-owner smarts (Carin went to Yale business school, Julia to Georgetown law), so—after two years of meeting with designers and stores around the country—they opened Hitched in December 2005.
Trendy? Yes. Friendly? You bet. Washington brides love going to this Georgetown salon—which works out because Julia and Carin love getting to know their customers. They also love giving advice, so if you've got questions about anything at all (Gown? Accessories? Bridesmaid dress? Flower-girl frock?), submit them ahead of time here or come back Thursday at 11 AM to ask live.
Missed Bridal Party's previous wedding chats? Click here to read transcripts.
To read the latest Bridal Party blog posts, click here.