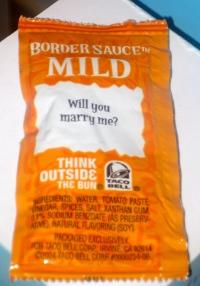 Okay, maybe you do quieres Taco Bell. Every so often, I have a craving for a Nachos BellGrande myself. But a warning to men everywhere: If you come across a sauce packet like this during a 3 AM T-Bell run, don't even think that it would be funny to use it for anything other than adding a mild kick to your Fiesta Burrito. Unless—and this is a maybe—you met at a Taco Bell. And if you did, please e-mail me: I want to hear your story.
Have you talked your friends out of any not-so-hot proposal ideas? Send your story to mconrad@washingtonian.com.
To read the latest Bridal Party blog posts, click here.