Pose Prints (poseprints.com)
Visit this site to create your save-the-dates in five minutes flat. Choose a background, then design a cartoon gal by picking from mini-images of hair color and style, eye color and shape, smile shape and size, shirt, jewelry, and headwear (go for the veil!). To change skin tone, look to the upper right corner of the screen. When done, you can do it again with a cartoon guy.
The site merges your characters with your background, then allows you to type any message. Sending is a little annoying—you can enter only one address at a time, then you have to hit "back" in your browser to do it again—but it still takes less time than addressing traditional cards. If you don't agree, you can order printed versions of your design ($50 for 25).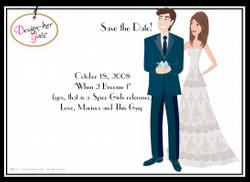 Design-her Gals (designhergals.com)
This site uses a similar easy-to-follow design process, except you get a full-body canvas and a few different options. Good news: The "outfit" section has seven wedding-dress styles. Bad news: Your cartoon fiancé is actually an accessory (in the "fun stuff" category), so choices for his look are limited.
Choose "e-cards" in the left menu to pick your background, write your text, and send (again, one at a time). To order a print version instead or to buy a $44.95 membership to print your own, choose "print shop" for a set of different backgrounds and card styles. Price varies by style, but a set of 25 five-by-seven-inch folded cards is $60.
For more cute card ideas (you'll definitely need a stamp and envelope for these), click here. Or share your own suggestions in the comments section.
To read the latest Bridal Party blog posts, click here.